CLASS HISTORY OF THE EIGHTH GRADE FROM 1949-1957
[Taken from the 8th grade graduation book]
Sept. 5, 1949 found twenty-four little girls and boys eagerly waiting for their first day in school. Miss Robinson, likewise, was ready to invite them in and start them in the "Three R's." The twelve girls and twelve boys were: Cynthia Bell, Darlene Bornholdt, Donna Buttenschon, Mary Ann Goodyear, Mary Ellen Griffith, Bonnie Henricksen, Judith Luth, Jean Mertz, Beverly Namanny, Iris Spangler, Anne Weir, Judith Wohlert, Charles Baker, Gary Claussen, Edward De Voss, Billy Griffith, Barry Kahl, Jon McAvoy, Edward McLaughlin, David Ridnour, Herbert Sellman, Jimmy Stevens, Roger Stracke, and Dennis Thomsen.
Norma Walker entered in October, but moved to Avoca in Feb. In December, Henry Bodnas, a refugee from Poland, joined our class. Joe Blum and Larry Neff came in the spring. Before school closed, Henry had transferred elsewhere and Bonnie Henricksen moved to California, leaving us with a total of eleven girls and fourteen boys. Mary Ann, Mary Ellen, Judith, Jean, Beverly, Iris and Anne were in the Rhythm Band. We played for the Christmas Operetta "Red Candles," directed by the music teacher Miss Ballenger, who came here from Council Bluffs.
On Monday, August 28, 1950, all 22 who had been promoted were anxious to meet their second grade teacher, Mrs. Jacobsen. Failing to report for duty were Eddie McLaughlin and Herbert Sellman. During the year we lost Eddie De Voss to Grant, Iowa, Jimmy Stevens to Council Bluffs, and Roger Stracke to another school. Additions were Carolyn Kuhr, Joan Nash, Linda Palmer, Judith Hansen, Larry Sievers, Ronald Terry, and Larry Mueller. Larry Mueller didn't stay long, so at the end of the year, the roll was somewhat out of balance with 10 boys and 15 girls. This Christmas, the operetta, directed by Mr. Curtis, was "Snow White and the Seven Dwarfs." During the year, we were interviewed by the "Inquiring Reporter of The Walnut Bureau." The question was, "What do you plan to be when you grow up?"
The new addition to our school was completed in August, 1951 and we were to be the first to occupy the third grade room. On opening day, September 3, we met our new teacher, Miss Kardell. Our music teacher for the school this year was Mr. Romoser, who chose "The Magic Oven" for the Christmas Operetta. In the spring we were invited to a music program at the gym presented by the upper grades under the supervision of Mrs. Bigelow who helped with the music after Mr. Romoser was called into the Navy. Having lost Charles Baker to Harlan and gained Bruce Peters, James Rasmussen, Gary Russmann and Jerry Stadt, we now had 14 girls and 15 boys.
Now we were ready for fourth grade and a move into the "old" part of the building again. On September 1, 1952, we were glad to know that Mrs. Larsen would be our teacher. Thirteen girls and 14 boys reported for the fourth grade. Kelly Dorscher, Walter Knudtson, Mary Sampson and Kay Smyser joined our class. Now we have 15 girls and 15 boys. Our Christmas operetta was "Terry's Christmas," directed by Mr. Donelson, who came to us from Clarinda, Iowa.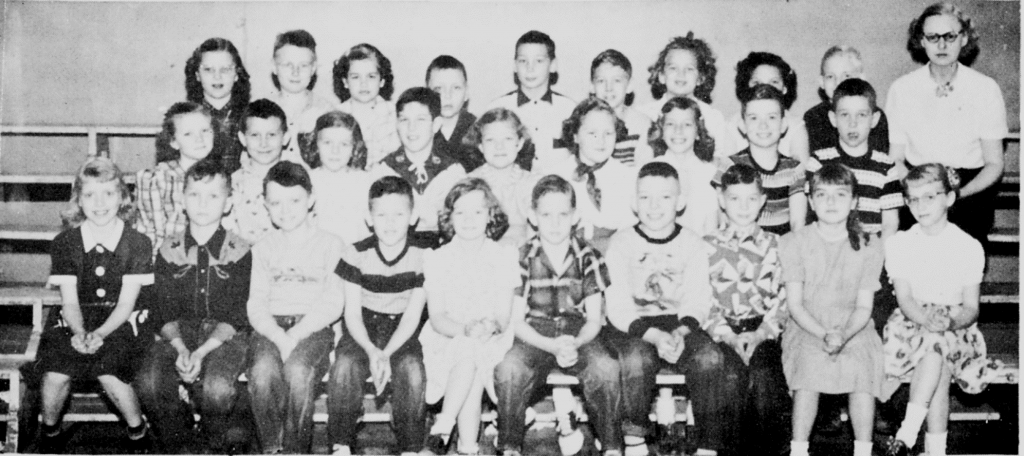 FOURTH GRADE IN THE 1953 CARDINAL YEARBOOK
Front, L to R: Cynthia Bell, Ronnie Terry, Billy Griffith, Bruce Peters, Jean Mertz, Barry Kahl, Jim Riley, Larry Neff, Mary Sampson, Anne Weir. Second row: Mary Griffith, Jon McAvoy, Linda Palmer, Jerry Stadt, Beverly Namanny, Donna Buttenschon, Darlene Bornholdt, Larry Sievers, Gary Claussen. Third row: Judith Hansen, Dennis Thomsen, Mary Ann Goodyear, Kelly Dorscher, Walter Knudtson, James Rasmussen, Carolyn Kuhr, Joan Nash, Gary Russmann, Bernice Larsen (teacher)
This year, on Monday, August 31, 1953, Mrs. Farris was waiting in the fifth grade room to welcome 13 boys and 15 girls to her class. James Riley had moved to Missouri and Gary Claussen enrolled with the new fourth grade. We were glad to welcome Nancy Bigelow on opening day, Edward Runyan in December, Sharon Wilson and Donna Beedle in February. Mr. Donelson, our music teacher, chose "Pardon Me, Santa" for our Christmas Operetta. Now we have 18 girls and 14 boys, the largest class we have ever had.
Our room teacher for the sixth grade was Mrs. Lorraine. There were now thirty of us. Edward Runyan moved to another community and Larry Neff returned to country school. Early in the year Everett Jueden joined our group; Wayne Holst came in the second semester. This year we completed several major art projects: Easter Egg Dolls for the Elk Horn Orphanage, May Baskets for the Kindergarten, a Christmas scene for our hallway, and a poem book called "The Spotlight." Judith Hansen, Carolyn Kuhr, Jean Mertz, Cynthia Bell, Donna Beedle, Sharon Wilson, Jon McAvoy, Dennis Thomsen, Jerry Stadt, Barry Kahl, Bruce Peters, and Larry Sievers were in band. Mr. Donelson was again our music teacher. We ended the year with a picnic. Then 17 girls and 14 boys went home for the summer, promising to meet again for seventh grade in the fall.
Here we are in seventh grade with our room teacher, Mrs. Nelson. Thirty-one of us kept our promise. During the year Mary Beth Kilstrom and Myron Boham joined our class. We helped fill boxes for the Red Cross, and collected clothing for the needy. Mr. Lees, who came from Oklahoma, was our music teacher. At the close of school we had a picnic at the Walnut park with Mrs. Nelson and 33 pupils present.
In the fall of 1956, the last chapter in our grade school history began. We've come a long way since September 5, 1949. There are now 39 of us to greet Mrs. Bigelow in the southwest corner basement room. The new curtains, new desks, bookcases and freshly painted walls make it quite different from the sewing room of last year. During the summer, Cynthia Bell moved to Colfax, Iowa. New pupils are Alvin Peterson, Darrell Clayton, Larry Neff, Gary Wendelin, Haeven Pedersen, Bonnie Petersen, and Gloria Thomas. After 2 weeks, Alvin Peterson transferred to Council Bluffs, leaving us with 19 girls and 19 boys. In the second semester, Joan Nash moved to Shelby, Donna Beedle to a farm near Marne, Barry Kahl and Nancy Bigelow transferred to Carson School. Mr. Graetz was our band instructor and Miss Wood was our vocal instructor. Mr. Devine coached football, Mr. Ferry coached boys' basketball and Mr. Dean coached girls' basketball.
(We thank Mary Ellen Griffith Woltmann for contributing information on the WHS Class of 1961.)
KH