VETERANS OF THE CIVIL WAR FROM WALNUT, IA
THEODORE ANSTINE
ANOTHER OLD SOLDIER ANSWERS FINAL CALL
Theodore Anstine Passed Away at Home of Daughter, Jan. 7, 1921
Theodore Anstine, son of Michael and Amy (Snyder) Anstine natives of Pennsylvania, was born in Champaign County, Ohio, April 28th, 1843. Died at his daughter's home near Walnut, Iowa, January 7, 1921, aged 77 years, 7 months and 9 days. He removed with his parents, when eight years of age, to near Industry, McDonough county, Illinois, where he grew to manhood, receiving a fair education in the common schools.
He was married February 24th, 1869 to Miss Mary L. Wilhelm, of McDonough county, Illinois, daughter of Welcome and Mary (Price) Wilhelm, who preceded him in death two years ago to the very day and almost the same hour of the day. [The marriage was February 23rd per the 1889 Shelby County History and Mary was from Schuyler County. In the 1850 Census, the Wilhelm family was in Rushville, Schuyler County, Illinois and Mary L. was 2.]
To this union were born nine children: William, deceased, Basha Jane Malick, of Council Bluffs, Iowa; Cora May Garrison, of Avoca, Iowa; Elmer, Charles, and Clara Campbell of Walnut, Iowa; Katy Leo, of Birchhills, Canada; Chester Roy, Bellgrade, Neb.; and Amy Bressler of Gibbon, Neb. These with 35 grandchildren and 4 great-grandchildren, with a host of relatives and friends, he leaves to mourn his departure.
In 1873 he moved with his family to Monroe township, Shelby county, Iowa, buying 160 acres of wild prairie land, which he brought to a high state of culture by planting fruit trees and natural groves and erecting buildings becoming one of the leading agriculturists of the county. In 1889 he erected a fine residence at a cost of $1500.00 situated on a natural building site attractively surrounded by evergreen trees of his own planting, and erected a large barn on the farm the frame timbers of which were mostly sawed from trees of his own planting.
He was a Republican in politics, and has been officially connected with the affairs of his township and county, having been Justice of the Peace, Township Trustee, County Commissioner and member of the school board, serving with credit and satisfaction to the public.
During the Rebellion he went to the defense of his nation's flag, enlisting Sept. 14th, 1862 in the Seventy-eighth Illinois Volunteer Infantry. Was first under fire at Chickamauga, and took an active part in the battle of Mission Ridge. Two days after the battle of Chickamauga he was taken prisoner; was first confined at Richmond, Virginia in the Royster building opposite Libby prison. Feb. 24th 1864 he was taken to Andersonville; he was held 577 days and experienced all the horrors of a rebel prison life. Of the nineteen privates and one officer taken prisoners, belonging in his company, only nine lived to return to their homes. He was a member of the G. A. R. John A. Dix Post, of Walnut, Iowa.
The funeral was held at the residence of his daughter, Clara Campbell, north of Walnut, Iowa, on Monday, January 10, 1921, at 1:30 p.m. conducted by Rev. R. V. Felt, pastor of the M. E. church of Walnut.
The body was held in state until the arrival of his daughter, Katy Leo from Canada. Interment made on Wednesday in Walnut cemetery by the side of his wife.
The following relatives were in attendance from a distance, L. D. Wilhelm and wife, John Wilhelm, of Industry, Illinois.
Theodore P. Anstine is in the Veterans photo in our October 2003 Antique City Roots and also in the "UNION VETERANS OF THE CIVIL WAR RESIDING IN SHELBY COUNTY" photo in 1915 Past and Present of Shelby County, Iowa Vol. 1, p. 528. (The Walnut Bureau, Thurs., Jan. 13, 1921, p. 1; 1889 Biographical History of Shelby and Audubon Counties, Iowa, W. S. Dunbar & Co., Publishers, p. 616)
KH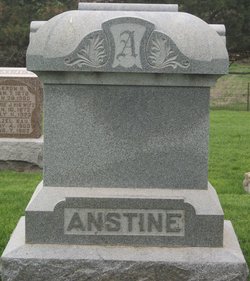 Family Stone
Theodore and Mary Anstine
South side of the Layton Township Cemetery