WGS CHARTER MEMBER WILBER HUBBARD
CELEBRATED HIS 100TH BIRTHDAY
BY NEAL HUBBARD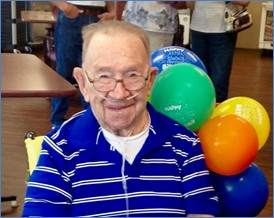 Wilber Hubbard, a former resident of the Walnut area for over 50 years, celebrated his 100th birthday on August 9, 2019. Wilber has been a Pottawattamie County resident his entire life. He was born on a farm near the village of Weston, Iowa in Garner Township. His family moved to a farm near Neola in 1924. Part of that farm is now the Neola golf course. Wilber graduated from Neola High School in 1937. After graduation, he helped his father with his farm and farm insurance business. Wilber served in World War II from September 1942 to December 1945 with the Army. He was in the Seventh Division, 57th Battalion Artillery in the Pacific.
After his service, Wilber returned to Neola to work with his dad at the farm and the insurance business. Wilber met Ioma Krueger, a Walnut girl, while she was working at Pottawattamie County Mutual Insurance in Council Bluffs. Wilber started his own farm operation in 1948 on one of his dad's Neola farms. Wilber and Ioma married on September 18, 1949. They farmed in the Neola area until January 1965, when Ioma's mother asked them to take over her farm south of Walnut in Lincoln Township. Wilber and Ioma retired from farming in 1988 and continued to live on the farm until 2008, when they moved to Peace Haven in Walnut. One of their achievements that Wilber is most proud of is he and Ioma receiving the Izaak Walton League award one year for a windbreak they established around the farm buildings. Ioma's great grandfather, Christian Dermeyer, purchased the farm in 1875. It is part of what was known for many years as Dermeyer Corners, south of Walnut. Wilber is still actively engaged in helping his son, Neal, with the farm ownership decisions.
Wilber has been active in several Walnut and area organizations. He is a member of the Peace United Church of Christ in Walnut. He served on church council and sang in the church choir for several years. He helped with the church food stand at the antique walk well into his 90's. Wilber has been a member of the Masonic Lodge for 77 years and served as Worshipful Master on more than one occasion. He has been a member of the Order of the Eastern Star for many years.
Wilber and Ioma were married for nearly 68 years before she died in May 2017. They raised 4 sons, Neal, Clark, Alan and Mark. Neal lives in St. Paul, MN with his wife Charlotte. Alan lives with his wife, Lisa, in Cedar Falls, Iowa. Clark passed away in 2007 and Mark died in 2006. Wilber has 3 grandchildren, Shawna in Indianapolis and Kirk in Golden, CO (Mark), and Anna in Chicago (Alan).
Wilber lives at Northcrest Living Center in Council Bluffs. He continues to feel good and still enjoys telling stories about what happened years ago or just recently. He keeps up on current events locally, nationally and internationally. He is always happy when someone stops by to visit him. He believes technology is the biggest change he has witnessed in his 100 years.
To help Wilber celebrate his birthday, the staff at Northcrest Living Center and family members hosted a cake and ice cream party for Wilber, his family, friends and the residents at Northcrest in Council Bluffs. Nancy Krohn from Minden, a long time friend of Wilber's, sang a medley of songs as entertainment.
NH