WGS CHARTER MEMBER Ruby Andersen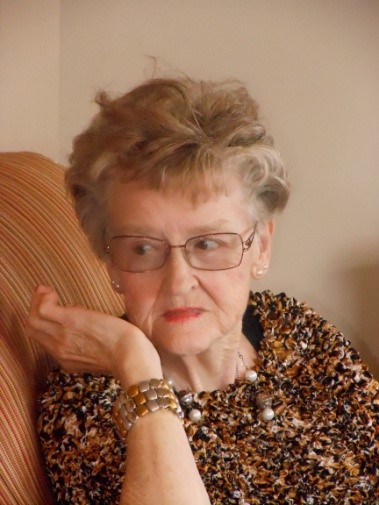 Ruby Corine Curtis was born July 24, 1929 in Griswold, Iowa, the daughter of William Lyle and Pearl Sedonia Clark. At the age of two, her mother died and she was adopted by Lorens and Mabel Seastrom.
When Ruby was in 3rd grade, the family moved to Red Oak, Iowa, where Ruby attended school until she was a senior in high school. Just before starting junior high, Ruby started her first job at the Green Parrot Café where she earned 25 cents an hour. During high school, Ruby worked at the library as the Children's Librarian.
After graduating from high school, Ruby moved in with her Grandma Cora Clark. She worked at the Griswold bakery, and during this time, she met Ervin Andersen. It was at the Griswold Reunion Dance in August, 1947. He offered to take her home from the dance and they walked three blocks to his car, even though she only lived a block from where they had been dancing. When she got home her grandmother asked her who she had been with and she said she didn't know his name, but he had a big nose and a fabulous new 1947 black Pontiac.
Ruby and Erv were married April 29, 1948 in Worthington, Minnesota at St. Paul's Lutheran Church. Upon returning, they had a wedding dance at the Armory in Atlantic with the Jay Kay Orchestra performing. The owner of the bakery where Ruby worked made their wedding cake.
Ruby and Erv farmed various places during their married life, from Walnut to Marne, to Audubon, to Kimballton, to Anita, and back to Walnut. During this time, their six children were born: Richard Ervin, Linda Jean, Donald Dale, Marilyn Eileen, Shirley Joan, and Verlee Lavonne.
After returning to Walnut in 1959, Ruby raised her children and worked alongside Erv on the farm. Along with crops, they raised cattle, Shetland Sheepdogs, Norwegian Elk Hounds and Chester White hogs. Erv was also a buyer for the Kimballton Sale Barn. In 1975, Erv & Ruby sold their farm north of Walnut and moved into town. Erv worked as a real estate agent for Ted Becker Real Estate in Atlantic. Erv died of cancer in 1981.
From 1985 through1988, Ruby lived in New Hampshire with her daughter and son-in-law, Rich and Shirley Righter. During this time, many of her grandchildren came and spent several weeks in the summer with her.
In 1988, Ruby moved to Harlan, next door to her son and daughter-in-law, Don and Mary Andersen. She helped Don with delivery of car parts from his auto parts store. From there she moved to Walnut, then to Jefferson, Iowa.
During the years, Ruby belonged to the Walnut Federated Garden Club, helped with the Walnut Go-Getters 4-H Club, worked at the Dairy Queen, was Assistant Librarian, worked at Peace Haven Retirement Home and owned a craft store called the Calico Kitten. In 1982, Ruby hosted a foreign exchange student from Argentina for a year. Later, Ruby belonged to the Walnut Creek Historical Society and was one of the co-chairs responsible for moving and restoring the country schoolhouse that is now in Walnut. Ruby loved researching genealogy, working with the Walnut Genealogy Society and she spent many hours compiling records to preserve the history of the area.
Ruby always considered Walnut her hometown, even though she lived in Harlan and in Jefferson prior to her death.
Ruby Andersen, age 83, passed away on Saturday, September 3, 2011, in Jefferson. She was preceded in death by her parents, her husband, Ervin, brother Glen Curtis, brother Dean (Joe) Curtis, sister Norma Curtis, and sister Lois Curtis.
Surviving are a son Richard Andersen and his wife, Deanna, of Marne; a daughter Linda Stevens and husband, Gary, of Dallas Center, Iowa; a son Donald and wife, Mary, of Harlan; a daughter Marilyn Hansen and husband, Steven, of Urbandale, Iowa; a daughter Shirley Righter and husband, Rich, of Keene, New Hampshire; a daughter Verlee Perkins and husband, Barry, of Jefferson; a brother Duane DeWitt of Arkansas; a sister-in-law Phyllis Curtis of Atlantic; a sister-in-law Geri Curtis of Griswold; 17 grandchildren and 26 great-grandchildren.
A Celebration of Life for Ruby Andersen will be held on Sunday, October 23 from 2 p.m. to 4 p.m. at the Legion Hall in Walnut. Her family invites everyone to attend and share their memories.