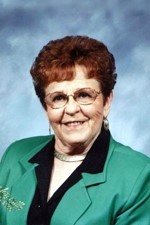 Jean Maurine Corey was born on July 5, 1925 to Avery and Maurine (Griffith) Allen in Walnut, Iowa. She attended Walnut schools and graduated from high school with the Class of 1943. She was married to her high school sweetheart, Clyde Corey, on December 19, 1943. They had two children: Robert and Sharon.
Jean helped her husband farm for many years. She worked at Peace Haven Retirement Home in Walnut and Cook Pharmacy in Atlantic before retiring.
Jean and Clyde enjoyed fishing, camping, dancing and playing cards. She loved her family and enjoyed spending time with her grandchildren.
In her later years, Jean frequented the Omaha Playhouse Theater, traveled often with friends and visited her siblings in California and Arizona. She participated in the Red Hatters Society and volunteered for the Walnut Historical Society and the AmVets. As her health declined, Jean loved spending her time working on word searches.
Jean died on Tuesday, September 20, 2011 at Peace Haven Retirement Home in Walnut, Iowa, having attained the age of eighty-six years, two months, and fifteen days. She was preceded in death by her parents, her husband Clyde, and her sister Mary Commentz.
She is survived by her son Robert Corey and his wife Jolene of Lewis, Iowa; daughter Sharon and her husband Paul Kracher of Omaha, Nebraska; grandchildren: Kathleen and her husband Jim Doyle, Kyle Corey and his wife Sara, Jennifer Kracher, Stephanie Kracher, and Tami and her husband Clay Dixon; great-grandchildren: Lucas Doyle, Kailyn and Cameron Corey, and Kirk Dixon; brother Robert Allen and his wife Deloris; several nieces and nephews, other family members and friends.
Pastor Darwin Moore officiated the 10:30 a.m. funeral service on Saturday, September 24, 2011 at Pauley Jones Funeral Home in Avoca, Iowa. Honorary casket bearers were Bill Babbitt, Richard Cook, Steve Caslow, and Gary Martens. Serving as casket bearers were Dennis Book, Craig Woltmann, Ronald Hansen, Joe Schmitt, Jan Allen, and Dennis Jensen. Interment was held at Monroe Township Cemetery in rural Walnut, Iowa.