VETERANS OF THE CIVIL WAR: STEWART CRAIG
BY KAREN HANSEN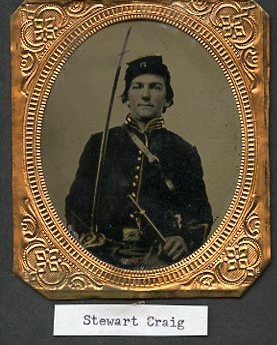 Another Civil War veteran who is buried at the Layton Township Cemetery is Stewart Craig. He has a military stone that was made by the Vermont Marble Company.
Having difficulty finding information on Stewart Craig, I asked for help from Linda Linn, who had put his photo and his record in the Civil War Pension Index on his findagrave memorial page. She was very helpful and I am grateful to her and to Barb Butcher and to the Cass County Genealogical Society for their help. Much of this information came from Ancestry Public Member Trees.
Stewart was born on June 19, 1844 at Lewistown, Mifflin County, Pennsylvania. That is also where his sibling E. Craig was born about a year later and died on July 22, 1846. His brother Jacob was born there in January, 1850. The 1850 Census listed Stewart's parents as John, 32, a laborer, and Caroline, 27, both born in Pennsylvania. Stewart was 6 and Jacob was listed as 0.
Mary Elizabeth was born into the family in Pennsylvania about 1852, but they lost Jacob on January 29, 1853. Sister Francis F. "Fanny" Craig was born on January 2 or 3, 1855 in Wisconsin. Jane Ann Craig was born in 1856 or 1857 and John William was born in May, 1858.
Craig family members listed in the 1860 Census in Blue River, Grant County, Wisconsin were John, 42, farmer; Caroline, 39; Stewart, 16, farmer; Mary E., 8; Frances, 5, John W., 2. On January 31, 1861 George Washington Craig was born into the family in Muscoda, Grant County, Wisconsin. This is also where Stewart Craig was married to Harriet Matilda McDougall on April 27, 1864. Stewart had enlisted in Company F 2nd Wisconsin Cavalry on February 5, 1862. He served for 3 years 5 months and 20 days, being discharged on July 25, 1865. GAR Post records show that Stewart W. Craig was a member of the J. A. Dix Post #408 at Walnut. In the 1890 Census of Union Veterans, his post office address was Maryville, Missouri; the disability incurred was a gunshot wound in his right side and he was deaf in his left ear. He had also been a POW.
On February 3, 1870, Stewart married Lucia E. Burdick in Johnson County, Iowa. Sometime after this is when they moved to Walnut, as a son of S. and L. E. Craig is buried next to Stewart at the Layton Township Cemetery here. The baby, W. B., died on June 26, 1876 at the age of 1 year and 1 day. We found Stewart Craig, 36, laborer, married to Lucie, 41, born in Vermont, in Marietta Precinct or Village, Saunders County, Nebraska on June 10, 1880 when the Census was taken. Their sons were Emre, 10, Clinton, 8, and Oscar, 6; all were born in Iowa.
Strangely, the date of divorce for Stewart and Harriet was listed as December 15, 1871 and they remarried in LeMars, Iowa on October 6, 1880. The marriage record says Stewart Craig, 37, blacksmith and farmer, father John Craig, and mother Caroline Price. Harriet's name was listed as Harriet Matilda Craig, 37, born in Illinois, father James McDougall, mother Anna Howard. Both the bride and groom lived in LeMars and it was listed as a second marriage for both. It appears that it was really Stewart's third marriage.
Mary Elizabeth Craig Keeler, a sister of Stewart, died in Iowa on December 27, 1872. Their father, John William, died on January 27, 1879 and is buried in Oakwood Cemetery at Lewis, Iowa. He had also served in the Civil War in Company B 25th Wisconsin Infantry and in Company I 12th Wisconsin Infantry. Also buried in Oakwood are John's brother Hezekiah C., a veteran of the Civil War, and John's father, John C. Craig, a veteran of the Mexican War. Stewart's sister Frances was married to Wattles Worrell Wolf and died on January 9, 1897 and is also buried in Oakwood Cemetery.
Besides a short obituary, the only mention that I found in the Walnut newspapers was the following: "Stewart Craig, an old citizen and business man of this place has been renewing his acquaintances here the past week." (The Walnut Bureau, July 31, 1896)
On August 25, 1897, Stewart Craig married again, this time to Polly Ann Bryant in Joplin, Missouri, where they lived. The index to pension files shows that Stewart applied for invalid pension on October 27, 1882 in Iowa and Harriet M. Craig applied for widow's pension on June 25, 1900 in Iowa. Harriet passed away on October 14, 1903 and is buried at LeMars, Iowa. Polly Ann Craig applied for contest widow's pension on August 7, 1920 in Missouri.
Ben R. Reynolds, chairman of the county soldiers relief committee, accompanied Stewart Craig to the soldiers home at Marshalltown on April 24, 1900. "Mr. Craig was brought from Lewis this morning, it being necessary to carry him on a cot, in which situation he was taken to Marshalltown. For several months this old veteran has suffered from a stroke of paralysis, and is taken where things are more convenient for his care and aid to recovery." (The Atlantic Daily Telegraph, April 24, 1900, pp. 1 & 2) He was not able to recover and passed away on May 4, 1900.
"The remains of Stewart Craig, an old soldier and former resident of Walnut, were brought here last Saturday and buried in the Walnut cemetery. He died at the soldiers' home at Marshalltown Wednesday from paralysis. The remains were taken in charge by the local G.A.R. post and were buried under the rites of their order. His mother and several other relatives from Lewis, were here to attend the ceremonies." (The Walnut Bureau, May 11, 1900)
Stewart's mother, Caroline Craig, passed away on March 20, 1908 in Omaha, Nebraska at the home of her son George Craig. Her remains were taken by train to Lewis, Iowa. She was 87 years and 5 days old, born in Pittsburg, Pennsylvania on March 15, 1821. She was married to John Craig on April 18, 1843. Children who preceded her in death were: Mrs. W. W. Wolf, Mrs. Mary Keeler and Stewart Craig. Those children surviving her were: John W. Craig, west of Griswold; George W. Craig, Omaha, Nebraska, also a sister, Mrs. M. Doty. Caroline was a member of the Methodist Church for all of her life; her funeral was held at the church in Lewis and she was buried in the cemetery there.
KH