IN LOVING MEMORY OF WGS HONORARY MEMBER:
BETTY CADE GRIFFITH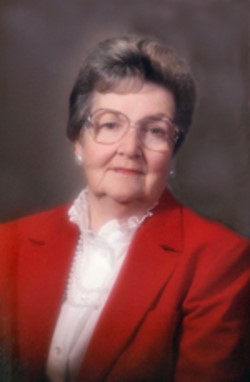 Betty Griffith was born on November 14, 1921 in Walnut, Iowa to Oscar and Olive Pauline Hulin Cade. She was baptized and confirmed at the Walnut Presbyterian Church. She graduated from Walnut High School in 1939.
Betty married Frank William Griffith on February 17, 1942 in Maryville, Missouri. To this union three children were born Frank, Mary Ellen, and Carol.
Betty worked at several cafes in Walnut, Iowa. She later worked at the Walnut Bureau. She loved to embroider, make quilts and sew. She loved to cook and bake and shared her talents with her friends, family and neighbors. She embroidered a quilt for each of her great-grandchildren. She loved the history of Walnut and was quite often called on to help people with their questions about the town and its people. She was an avid reader, played cards and was an avid Creighton University basketball fan.
She lived in her own home in Walnut until 2004 when she moved to the Walnut Housing Senior Citizen Apartments.
Betty loved her children, grandchildren, great-grandchildren, and great-great-grandchildren. She was so proud of having five generations in her family.
Betty died on Thursday May 21, 2015 at her home having attained the age of ninety-three years, six months and seven days. She was preceded in death by her parents, her husband, Frank, who died on July 26, 1994; her sister Jane who died in infancy; and brother, William Bill Cade.
Her survivors include her children: Frank Griffith and his wife Florence of Hayward, California; Mary Ellen and her husband David Woltmann of Harlan, Iowa and Carol Lynne and her husband Stan Corey of West Des Moines, Iowa; five grandchildren: Steve and his wife Donna Griffith of Livermore, California; Robert Griffith of Discovery Bay, California; Dr. Michael and wife Gayle Woltmann of Kingston, Illinois; John and his wife Jill Woltmann of Council Bluffs, Iowa; Christine and her husband William Barker of Ankeny, Iowa; seven great-grandchildren: Kennedy and Tanner Griffith of Livermore, California; William Griffith of Discovery Bay, California; Darrin (Meggie) Woltmann of Sycamore, Illinois; Tyler Woltmann of Kingston, Illinois; Cael and Luke Woltmann of Council Bluffs, Iowa; and two great-great-grandchildren Brynn and Eden Woltmann of Sycamore, Illinois; other relatives and friends.
The funeral service for Betty was held on May 26, 2015 at the First Presbyterian Church in Walnut. Burial was at the Layton Township Cemetery at Walnut.
We, at the Walnut Genealogy Society, are so thankful for the hundreds, if not thousands, of obituaries that Betty clipped and gave to us. We will certainly miss her and being able to call her to answer our Walnut history questions. KH