MILLINERY SHOP OF FLORENCE BEAL
BY KAREN HANSEN
Miss Florence Beal signed an agreement on June 4, 1912 to take possession of the millinery stock and fixtures of Miss K. Whittie's store in Walnut, Iowa. She took possession on July 29, 1912. The total sale price was $450.00.
(The Walnut Bureau, August 29, 1912, p. 1)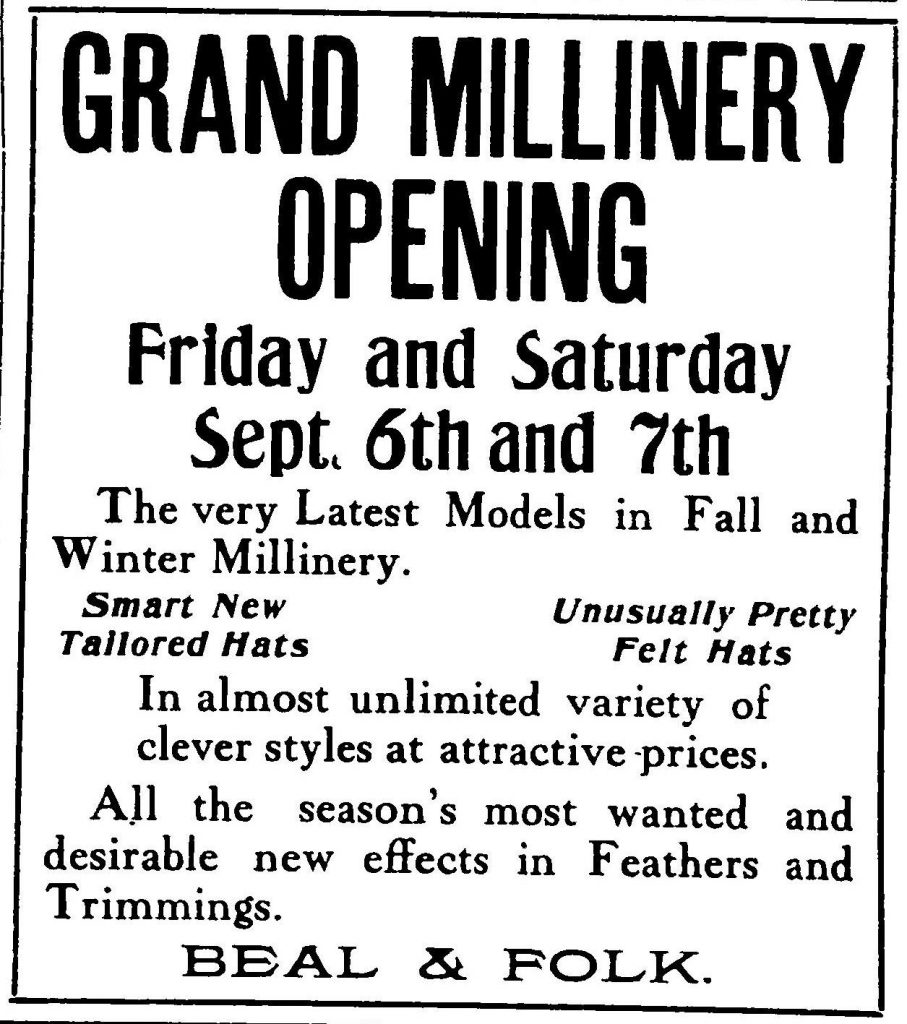 (The Walnut Bureau, September 5, 1912, p. 1)
Florence Beal and Maude Folk were from La Porte City, Iowa and friends who lived and worked together.
The store was at 215 Antique City Drive, where Affordable Heating & Air LLC is now. The Olde Tyme Quilting Shop was at that location until recently.
According to her nephew Don Richards, Florence Ardelle Beal was born on November 17, 1886 in Sanborn County, near Mitchell, South Dakota. In searching for Florence Beal, we found her with her parents, Harry, 33, and Marietta, 27, in Bruce Township, Benton County, Iowa in the 1895 Iowa Census. Florence was 8, Ethel was 6, Minnie was 5 and Jesse Beal, Harry's brother, was 25. Bruce Township is southwest of La Porte City.
In 1910 the family was in Big Creek Township, Black Hawk County, Iowa, which includes La Porte City. Florence A. was 23, born in South Dakota; Harry D. was 47, born in Ohio; Marietta V. was 41, born in Michigan. Also in the family were these Beals: Bonney B., 15; Dorotha A., 8; Arline (should be Arlene), 2. Bonney B. was Minnie Bonney, but didn't like the name, so she went by Bonney and later changed it to Bonney B.
Don and Natalie Richards believe that Florence had a millinery shop in Correctionville, Iowa before coming to Walnut to own the business, but not the building here, in 1912. She likely left Walnut during 1915.
In the 1915 Iowa Census, Florence, 28, is listed as a milliner in Walnut with total earnings of $400 in 1914 and unemployed for 4 months of 1914. She was also listed in La Porte City as a milliner with total earnings of $300 in 1914 and 6 months of unemployment. Her church affiliation was Methodist, but she had a 1913 Christmas card from the pastor of the Presbyterian Church here.
Florence Beal appeared in several plays put on by local Walnut talent. She was Mrs. Brooks, the Squire's wife in "The Old Quarry" and Martha Jane in "Struck Gas."
"Ketelsen & Neff, our real estate firm, sold the Whittie property now occupied by Beal & Folk, the milliners to August Voss, the first of the week. We understand that the milliners will move their stock to the Frank Bauer building in the near future." (The Walnut Bureau, April 1, 1915)
At some time in 1915, Miss Folk purchased Miss Beal's interest in the millinery store to conduct it into the future.
We don't know exactly when Florence moved from Walnut, but she studied to be a midwife for a couple of years, including 1917 at the Willows Women's Sanitarium Training Center for unwed mothers in Kansas City. She served as a midwife in La Porte City and helped deliver most of the people alive there at one time.
Florence Beal and John Bolte, who was from Andrew, Iowa, were married on June 18, 1919. John was the head manager at the lumberyard (Spahn and Rose Lumber) in La Porte City in the 1920 census; no occupation was listed for Florence. In the census taken on January 1, 1925, their name was spelled Balte. Both were 37 and they were in La Porte City. Her mother's maiden name was listed as Bonney, which her parents gave to daughter Minnie for her middle name. Florence lived in La Porte City for the rest of her life. She did not have any children.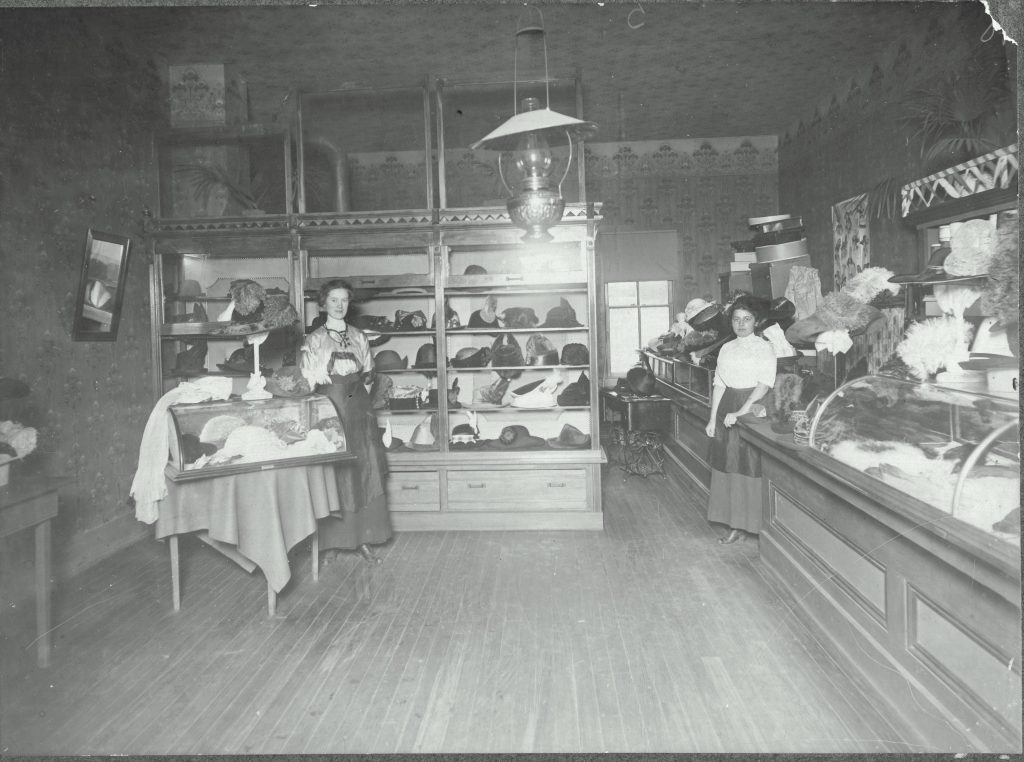 Florence Beal (on left) and Maude Folk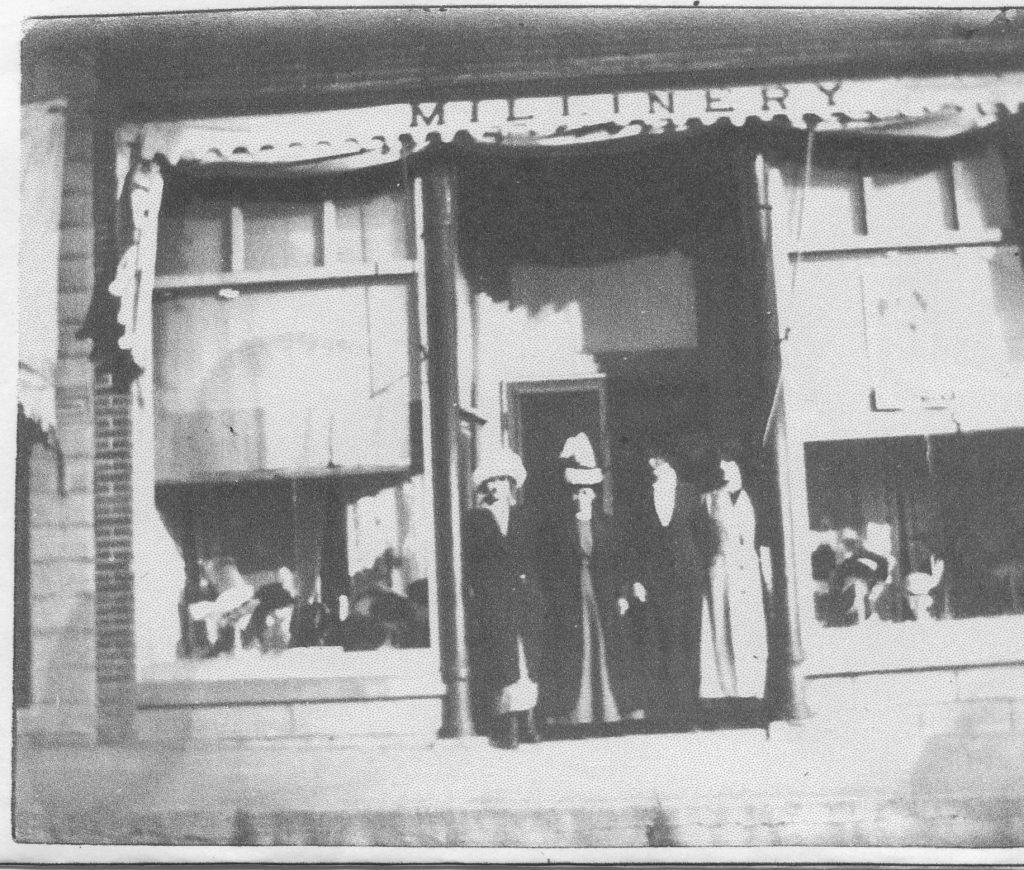 Who's In Front of the Millinery Store?
Maude (on left) and Florence listening to the Italian Orchestra in front of their store