MEMORIES OF WALNUT
BY DONALD LENEIGH FISCHER
My dad August Fischer and his brother, Ed Fischer, purchased the Briardale Grocery Store from August Christiansen in 1920.  Ironic as it may seem, August Christiansen's wife Caroline became my stepmother in 1936.  The name Briardale was a coop out of Des Moines, where small grocers could buy canned foods at more competitive prices.  In 1930, when times were difficult, my uncle Ed made the choice to leave the business. The building and all merchandise became my dad's.  It was more than a grocery store at the time.  Notions (needles, threads, sewing needs, patterns), bolted dry goods, women's hosiery, men socks, overalls, tobacco, kerosene, etc. were all part of the inventory.  Credit (bartering) was practiced with farmers for eggs, chickens, and butter.  Ironically again, Caroline worked in the store while my mother Ella still lived.  After her death and the death of August Christiansen, in June, 1936, Caroline and my dad married. We had been neighbors all my life.  So there was no period of getting acquainted.  To make a complete turnaround at that time, the grocery merchandise was sold to Art Koehrsen.  The groceries were moved to the first building south of the post office.
My dad retained sole ownership of his building.  It is then, in 1936, that Otto Christensen came on the scene.  He was married to my dad's sister.  They lived in Storm Lake, moved to Walnut and Otto became a partner in the newly formed chicken hatchery, C & F Hatchery. The first year we had baby chicks coming out of our ears.  After that first year, it went well. In 1945, my folks moved to California.  The partnership was dissolved and the building was sold to Otto. My Uncle Otto liked going to Canada to fish.   He was a favorite uncle.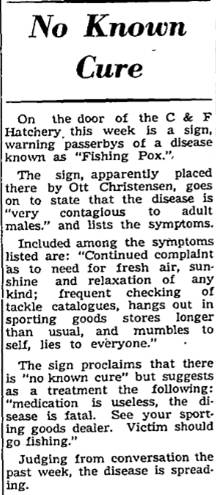 The Walnut Bureau, June 7, 1951, p. 1
If you were to look back to the late 20's when the Walnut Bureau had a society page, you would surely find reference to the ETC club having its monthly meeting in so and so's house. I am not sure of what the club stood for but can give you almost 100% membership.  Have forgotten some of the women's first names.
Ella Fischer, Mrs. Harry Nieman, Mrs. Del Jacobsen, Letta Myers, Winifred Moritz, Laura Thoning, Ruby Fischer, Ettabelle Baxter, Wilma Nissen, Mrs. Win Smathers, Mrs. Art Koeppe, Mrs. Lewis Fredrechsen, Mrs. Homer Schlotfeldt, Mrs. Judy Nissen, Mrs. Jesse Deen, Mrs. Pete Petersen, Mrs. Avery Allen.  One name escapes me, but she was a sweetheart.  They lived on a farm northeast of Walnut near the church.  She was pretty, personality and sort of red hair and she spent her last years in Peace Haven. I remember this group because I was just of the age when I was sometimes present.
The baseball and football fields contiguous to the Highway Gardens were before the cemetery location, which was short lived and was first used in 1937.   The athletic fields northeast of Walnut were there in 1921, and I suspect many years before that.  It is ironic that both locations were near the Pflugshaupt residences.  The Pflugshaupt family was still intact in the era I spoke of when my Dad played.  Both Harry and Elmer were unmarried and living at home and were on the town baseball team with my Dad. Harry was married and had his own family in 1937.  The 1937 field was in his pasture, as described.
It has always been a mystery to me why no one seems to remember the barnstorming airplane that took off from the Hi-Way Garden field in an easterly direction, hit the power lines and crashed in what I refer to as the Pflugshaupt home place.    No one was injured.  The plane was in the front yard for weeks.
All of my memories about the Gardens are not good, maybe a little hilarious.  I carry a chipped tooth to this day reminding me never to quarrel over a girl.  The black eye has healed.
The football field and baseball diamond were both north of the Gardens.  It was a large level space of ground.  The baseball field had a dirt infield.  Third base ran north and south parallel to the road.  Home plate was at the north end, facing southwest.  There were covered dugouts along first and third base lines.  A large, covered amphitheater was behind home plate.  Each row of bleachers under the roof was elevated in tier fashion, leaving a large space under the bleachers where pop, chewing gum, popcorn. peanuts, candy bars and hot dogs were served.  Cornfields were to the north and west of the diamond.  Foul balls were apt to go into Pflugshaupt's front yard, the road to the east, or into the cornfield to the north.  As youngsters we shagged the foul balls and turned them in for a bottle of pop.
My dad played first base on the town team.  Crowds were big.  It was necessary to go out early on a Sunday morning to park our car for my mother's benefit behind the fence along the first base line.  This assured her a good seat, away from the raucous crowd of men in the covered bleachers.  A man by the name of Walter Letham managed the team.  He had a clothing store in the building that became Baker's grocery.  Walter had a son my age, also named Walt.  One weekday Walt and I were just bidding our time as kids did.  We found ourselves sitting in the covered, third-base-line dugout.  We decided to have a smoke.  Bags of lime for whiting base lines were stored under the roof.  How, I don't know, but we ignited the lime.  There was limited damage.
The ambient grounds were large enough that the football field did not encroach on the baseball infield. The football field ran north and south, west of the baseball field.  There were no bleachers or accommodations for football.  The Gardens building sat on the corner south of the baseball field on a setback from the north/south road. If on a line, it would be in line with the third base line.
I can be specific about the date we started using the field in Harry Pflugshaupt's pasture.  The year was the fall of 1937 for football. I was a senior and we played our football there and baseball there.  It was down in the bottom ground west of the cemetery and east of Harry's place, between the cemetery road and the railroad tracks.  It was a soggy place.  A lousy arrangement.  No facilities of any kind.  However long it was used for that purpose, I do not know, because I soon left Walnut, but not for good.  We visited Carl and Ruth Osler for years.
Deke's was not the only restaurant in town during the 30's.  Avery Allen had a small place in the front room of the Opera House.  It only provided a counter with five or six stools.  His entry was primarily hamburgers.  Later Nels Hanson ran it. Another place of short life was a place we called Ma's.  It was in the building second place south of the post office.  Ma's was run by a Mrs. Rethwisch.  Again mostly hamburgers.  We could get five small hamburgers with pickle only in a bag for 25 cents.  That worked well in high school when dating.  But Deke's was the major source of a cooked meal.  Deke's was really the hang out for us kids.  It was always where we made our last stop after night games, as well as the Saturday night hangout for farm ladies.  Deke's was located between Ona Clough's pool hall and Harvey Lewis' leather works.
MY CHICKENS
I was a senior in high school. It was March of 1938. I was 17 years of age. Two buildings stood on the back of our residential lot (402 Country Street), along the alley. One was a garage for our '36 Plymouth. Detached was a smaller building that in its prime had been used for cob storage. Cobs were used for fuel, but now natural gas heated our home. The empty cob shed alerted my entrepreneurial instincts and with my parents' permission, I began raising chickens.
I acquired 100 Rhode Island Red day-old chicks, a brooder to keep them warm, proper watering and feed trays, spread litter on the floor to absorb the droppings and was in business. In six-weeks' time the chickens were ready to sell. It was so much fun to enter the building at night when they were snuggled under the hood of the brooder, which warmed the building with a reddish glow. I had great visions of what I would do with my profits.
Generally, the birds were ready to sell in eight weeks. I had two markets. For those of the flock that were pullets, there was a ready market with local farmers. They were willing to pay a premium price to be assured of egg production. Those that turned out to be roosters I sold to Bernie's Chicken Shack in Harlan. At eight weeks the chicks had not reached three pounds and that was a good size for Bernie's use. He ran a roadside inn where couples came to drink and dance and before calling it a night would order a plate of one-half a chicken with fries. The half a bird weighing just under a pound and a half was ideal for the Chicken Shack.
DF