IN LOVING MEMORY OF CHARTER MEMBER
MARGARET MURPHY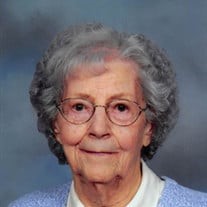 Margaret Murphy was born on October 6, 1916 at her parents' home in Walnut, Iowa. Her parents George Washington Adams and Sylvia Marietta (Keys) Adams named her Sylvia Margaret Adams after her mother and grandmother, but she was always called Margaret. Her childhood was typical of someone growing up in the 1920's and 1930's. She had a group of friends that she grew from childhood into young adulthood with and remembered them fondly even in her old age.
Margaret loved school and was always trying to learn new things. She graduated from Walnut High School in 1934. It had been Margaret's dream to attend college and become a teacher but because her mother needed her at home Margaret took normal training classes and then taught country school at Layton Township Number 9. She enjoyed reminiscing about her school and the students she taught and would enjoy getting an occasional note from her students.
In the late 1930's Margaret traveled to California to help her sister Helen. While there she took business classes at night school. After a stay of six months, she returned home. She married Francis (Frank) Murphy on August 29, 1940 at St Peter and Paul Catholic Church in Atlantic, Iowa. They started their married life in Atlantic but soon moved to Walnut where they lived most of their lives, except for a few years they lived in Colorado. To this union three daughters were born – Janice, Jane and Julie.
Margaret made a warm comfortable home for her family. She was a member of St. Patrick's Catholic Church where she was a member of the Altar Society and taught CCD classes. Margaret enjoyed neighborhood card clubs, Federated Women Club and volunteering in the community. The family enjoyed many family vacations including several trips to California to visit relatives. In later years, Frank and Margaret enjoyed attending Elder hostels across Iowa.
After Frank passed away on October 17, 1982, Margaret lived in Atlantic, Iowa for a time but then moved back to Walnut. She enjoyed volunteering at school and working at the Walnut Public Library for many years, where she was called the Library Lady. She always enjoyed working with children. In 2001, she moved to Peace Haven Retirement Home where she enjoyed many friendships. In 2010, she moved to Coon Rapids, Iowa to live with her daughter Janice and in 2012 she moved to Thomas Rest Haven where she received much love and tender care by the staff.
Margaret passed away on Monday May 18, 2015 at Thomas Rest Haven in Coon Rapids, Iowa having attained the age of ninety-eight years, seven months and twelve days. She was preceded in death by her husband Frank, parents Sylvia and George Adams, brothers Leston Stacy and Wyland Adams and her sisters Ruth Jacobsen, Cecile Cole, and Helen Johnson.
She is survived by her daughters Janice and her husband Bill Brandt of Coon Rapids, Iowa; Jane Murphy of Lee's Summit, Missouri and Julie and her husband Tom Holdsworth of Oak Grove, Missouri. She had eleven grandchildren – Karen McKibben, Cammy Brandt, Mark Mitchell, Susan Brandt, Angela Mitchell, Michael Leslie, Mark Leslie, Sarah Gross, Stefany Hulsebus, Mary Dolan and Daniel Holdsworth; twenty-three great-grandchildren and three great-great grandchildren; her niece Cecile Schroder and nephews Jim, Bob, and Larry Murphy and a host of relatives and friends.
Burial was in St. Patrick Catholic Cemetery at Walnut, Iowa. (www.pauleyjones.com)