IN MEMORY OF WALNUT'S 105-YEAR-OLD RESIDENT, GEORGE MERTZ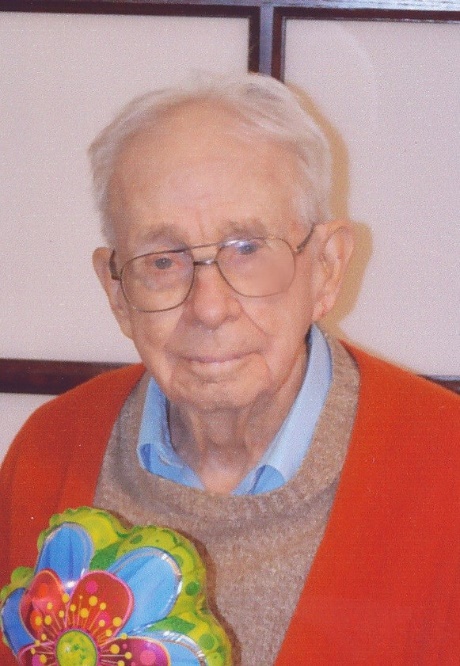 George I. Mertz, son of Arthur and Margaret (Drake) Mertz, was born on October 3, 1915 in Walnut, Iowa. He grew up in Walnut, Iowa and graduated with the class of 1933. After high school he enlisted in the United States Air Force. He met and married Evelyn Oldehoff in Florida; then the couple moved back to Iowa and made their home in Walnut.
After returning home from the Air Force, George bought out his dad's business. Mertz Implement was created and sold Oliver Tractors and equipment. Throughout his life, George farmed, sold real estate and also helped build the Super 8 in Walnut. He loved visiting Canada to go fishing and hunting. You could almost always find him on the road for his next adventure. George loved the outdoors and loved sharing all adventures with Evelyn. When traveling he loved to stay at hotels so he didn't have to cook or clean on vacation.
He is most known for his patience and being able to relate to everyone. He was on the school board for many years, he was Superintendent for Sunday School, a part of the Mariners Group, and other organizations.
George passed away on Friday, December 4, 2020, having attained the age of one hundred five years, two months and one day. He was preceded in death by his parents Margaret and Arthur; wife Evelyn; siblings Herbert, Lavern and Helen; grandson Alec Mertz.
Left to cherish his memories here on Earth are his children Kenny (Joan) Mertz of Avoca, Iowa; Dennis Mertz of Council Bluffs, Iowa; Randy (Rhonda) Mertz of Arlington, Nebraska; Greg (Michelle) Mertz of Walnut, Iowa; 12 grandchildren, 17 great-grandchildren, and 3 great-great-grandchildren, sisters Alice Richter and Hazel Knouse of Walnut, Iowa; other family and many friends. (www.pauleyjones.com)
KH