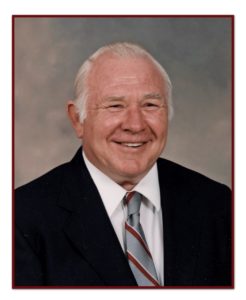 IN LOVING MEMORY OF WGS CHARTER MEMBER: LOUIE TROLL
Louie Mike Troll, the only child of William and Alma (Fideler) Troll, was born on May 22, 1930, in Harlan, Iowa. He was baptized in Delmont, South Dakota, and grew up on the family farm north of Walnut, Iowa. Louie attended Monroe Country School through the eighth grade and graduated from Harlan High School in 1948.
On May 3, 1953, Louie married Lois Evelyn Eilts at Zion Lutheran Church in Atlantic, Iowa. The couple then farmed and Louie also drove truck and sold seed corn. They moved into Walnut in 1982, and Louie drove the school bus for Walnut Community Schools for 36 years and served as the transportation director for a time. He lovingly referred to the school bus children as his "kids".
Louie was a longtime active member of Immanuel Lutheran Church in Harlan, Iowa, where he was confirmed as a young man and later served on the church council. He was a 4-H leader and coach for the chicken judging team that advanced to the Iowa State Fair, and he also judged chickens at the County Fair level. As "Santa", Louie brought delight to many Walnut area children for over 40 years. He loved gardening, mowing the yard, and playing cards with friends. He and Lois enjoyed traveling, and during their later years, they took bus trips around the United States. They had the privilege of hosting two foreign exchange students from Germany, Lydia Seus and Lorenz Kock. Family was very precious to Louie, and his grandchildren were quite special to him.
Louie M. Troll died on Thursday, December 31, 2020, at the Cass County Memorial Hospital in Atlantic, Iowa. He had reached the age of 90 years, 7 months, and 9 days.
Louie was preceded in death by his parents; two brothers-in-law, John Eilts and Jeff Carl; and one sister-in-law, Barb Eilts. He is survived by his wife of 67 years, Lois Troll of Walnut, Iowa; two daughters, Linda (Chuck) Ploen of Harlan, Iowa, and Leanne (Jeff) Krueger of Walnut, Iowa; one brother-in-law, Ross (Linda) Eilts of Massena, Iowa; one sister-in-law, Edna Carl of Corning, Iowa; four grandchildren, Jason (Rev. Heather) Ploen of Minden, Iowa, Eva (Ryan) Jensen of Atlantic, Iowa, Nick Krueger of Peoria, Illinois, and Scott (Nicki) Krueger of Iowa Falls, Iowa; seven great-grandchildren; nieces and nephews; and other relatives and friends.
The funeral service was held at Immanuel Lutheran Church in Harlan, Iowa, on Tuesday, January 5, 2020, with Pastor Phil Nielsen and Pastor Heather Ploen officiating. Honorary casket bearers were John and Hertha Haas, Lowell Howe, Don Nielsen, Marge Barton, and Norma Krohn. Serving as active bearers were Jason Ploen, Jeff Krueger, Chuck Ploen, Nick Krueger, Scott Krueger, and Ryan Jensen. Burial was in the Layton Township Cemetery, Walnut, Iowa. Burmeister-Johannsen Funeral Home, Inc., of Harlan, Iowa, was in charge of arrangements. (www.burmeisterjohannsen.com.)