IN LOVING MEMORY OF WGS MEMBER
ESTHER LOEWENSTEIN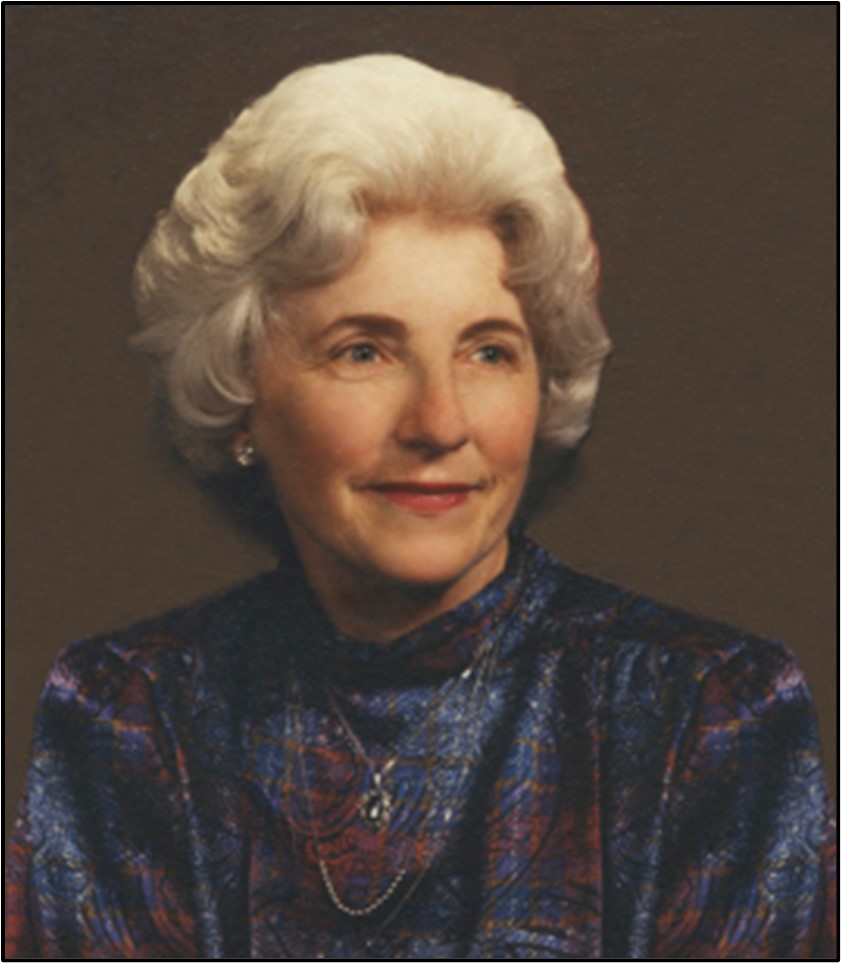 Esther Caddock Loewenstein of Walnut, Iowa passed away September 8, 2019 at Atlantic Specialty Care in Atlantic, Iowa, having attained the age of 93 years, 10 months, and 8 days.
Esther May Drake was born November 1, 1925 on the Drake family farm southeast of Walnut, Iowa. She was the daughter of George and Dora (Peterson) Drake. Esther grew up on the family farm, walking down the road with her sister Mabel to attend country school at Layton # 5. She graduated from Walnut High School with the class of 1943. She accepted a position with the then Walnut State Bank where she worked both full and part time for 40 years, performing bookkeeping and income tax duties. She met her husband Earl when he would purposely come to her teller window at the bank to get more acquainted.
Esther was united in marriage to Earl Charles Caddock Jr. on June 12, 1949. Earl was the eldest son of Earl Caddock, Sr., the world heavyweight wrestling champion of 1917, and Grace Mickel. Two children were born to Earl and Esther, Earl Charles Caddock III and Marsha Jean Caddock. After only four years of marriage, Earl Jr. passed away November 16, 1953 after a sudden brief illness. Esther continued to raise her children on the Drake family farm until they moved to a house in Walnut in 1961, where she continued to reside until the time of her recent illness. After ten years alone, Esther was united in marriage to Bruce Loewenstein on July 6, 1963. Together they enjoyed trips in their RV motor home to many states and cruises to the Caribbean. Bruce passed away December 1, 1999.
Esther enjoyed vegetable and flower gardening, putting in many hours tending her beautiful flowerbeds. She also loved planting a small vegetable garden with her two grandsons, who spent a month with her in Walnut every summer when they were growing up. Her homemade bread and ice cream were special favorites of her family. She enjoyed traveling to new places with her family, especially national parks, and reading mystery books and her precious Bible. She treasured her home and the family farm, now in the Drake family for 125 years. Most of all she dearly loved her family and time spent with them and with her Lord.
Esther was preceded in death by her parents, her two husbands, Earl Caddock Jr. and Bruce Loewenstein and her brother-in-law, John Raymond Buboltz.
She is survived by her children, Earl (Susan) Caddock III of Plano, Texas, and her daughter Marsha (Donald) Kuester of Wheaton, Maryland; grandsons, Andrew Kuester of Wheaton, Maryland, and Evan (Emily) Kuester of Baltimore, Maryland; great grandson, James Kuester of Baltimore, Maryland; sister, Mabel (Raymond) Buboltz of Walnut, Iowa, and nephew, Robert Buboltz of Walnut, Iowa.
Esther's funeral service was held at 1:00 p.m., Saturday, September 14, 2019, at Roland Funeral Home in Atlantic, Iowa. A private family graveside service at the Layton Township Cemetery in Walnut followed.