IN LOVING MEMORY OF LONGTIME WGS MEMBER
DONALD WALTER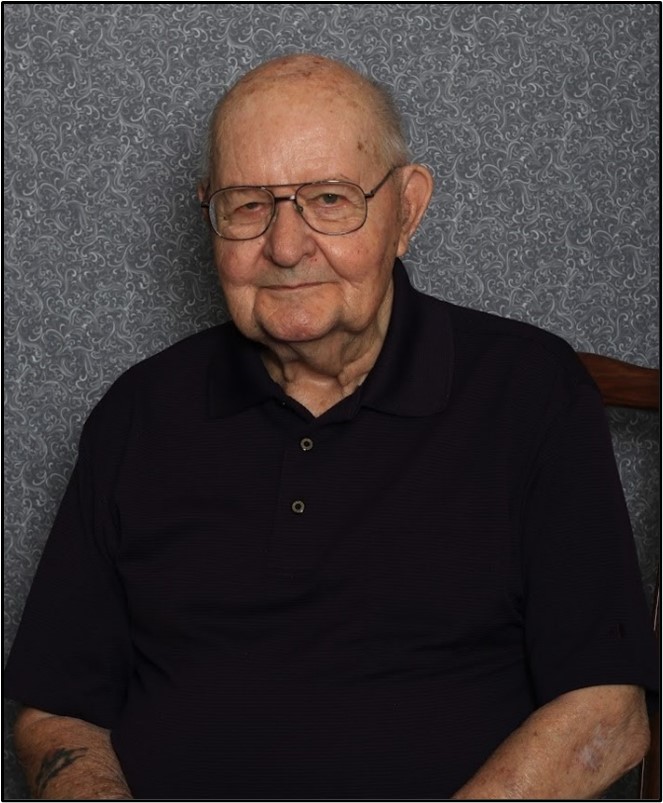 Donald Eugene Walter, longtime resident of Walnut, Iowa, passed away peacefully at Primrose Retirement Community, his current home, in Council Bluffs on Thursday, March 5, 2020, at the age of 93.
Donald Eugene Walter was born July 26, 1926, in Walnut to Clarence and Ethel (Wehland) Walter. He attended Walnut Public School and graduated from the Walnut High School in 1944.
During high school, he never shirked from work. He worked in a number of jobs, including scooping coal and sand, unloading railroad cars and as a railroad section crew member in Avoca. He worked on farms during harvests, the Atlantic canning factory during corn harvest, and for the Walnut Telephone Company doing construction and cable splicing. He was always working at something, as he said, "to keep busy and keep a few bucks in my pocket."
After high school graduation, Don enlisted in the Coast Guard and served on the U.S.S. Wakefield, a troop transport ship that carried troops overseas and returned to the U.S. with wounded personnel and prisoners of war. On the Wakefield, he sailed to England, France, Italy, North Africa and China. Discharged in St. Louis, Missouri on June 5, 1946, he hitchhiked back home to Walnut, shortly after which he went to work full-time for the Walnut Telephone Company.
On June 23, 1948, Don and Josephine Jane Forsythe were married at the Little Brown Church in Nashua, Iowa. Don then worked as a mechanic, along with his dad and uncle, at Walter Bros. Garage until 1953 when he entered into a business partnership known as Mertz and Walter Implement. In 1959, he sold his half of the partnership and purchased the Cities Service Station in Walnut. Several years later, he purchased property and built a new station, operating it until 1967 when he and his brother formed the Walnut Development Corporation and built the Colonial Motor Inn, located at the Interstate 80 interchange just north of Walnut.
During this time, Don also worked as an agent and district manager in Iowa and Missouri for Equitable of Iowa Insurance Company and received his Chartered Life Underwriters and Securities designation through the National Association of Securities Dealers. While doing so, he purchased and renovated the vacated hospital building in Hamburg, Iowa and converted it into nine apartments and an office from which he managed this business.
Don retired in 2001. He maintained that his daughters, when asked what their dad did for a living, really didn't know how to answer given his many professional and other occupational pursuits. What they did know, however, was that he was always a hard worker and was successful in whatever he set his mind to do.
Don was a member of the Walnut AMVET Post #45 and the Walnut American Legion Post #422. He was active in community affairs and served on the Walnut Fire Department, as president of the Walnut Community Club and on the Walnut City Council.
He was a lifetime member of the First Presbyterian Church at Walnut, served on the church board and sang in the choir for many years. He was also a longtime member of the Walnut Genealogy Society.
Collecting harmonicas was a hobby of Don's and he was taught to play them by Russ Lehnhardt. Many who knew Don will recall his love of fishing and, perhaps, will have a smile on their faces and chuckle when remembering their fishing adventures with him or the fish stories he told. He would want them to do so.
Don is survived by Jo Jane, his wife of 71 years and his daughters Janie "Jane" Whitmire (Marshall), Camp Verde, Arizona and Shari Mailander (Bill), Hiawatha, Iowa. He was the loving, and well-loved, grandfather of six grandchildren and fourteen great-grandchildren.
A memorial service is tentatively planned for May 22, 2020, at 10:30 AM at the Presbyterian Church in Walnut.