MY STORY: THE FUNK AND TINKLE FAMILIES
BY MARIANN MARTENS
My mother, Rachel Alice Funk, was born April 24, 1893 on a farm north and east of Persia, sections 3 and 4 of Washington Township, Harrison County, Iowa. She was the last of three children born to Milton George Funk and Sarah Angeline Tinkle. Mother's siblings were Fred and Susan.
Fred Emory Funk was born near Ladora, Hartford Township, Iowa County, Iowa on November 28, 1880 and died June 1, 1963 in Littleton, Colorado. He married Eloise McGavern, who was born August 9, 1886 and died in Littleton, Colorado on May 1, 1979. Their children were Vera, Dorothy, Lawrence, Clifford and Delores Funk.
Susan ("Susie") Pearl Funk was born July 30, 1886 near Persia, Iowa and died October 16, 1953. Susan married Harry Leroy ("Roy") McGavern, a brother of Eloise McGavern Funk. Harry was born June 3, 1883 and died October 11, 1980. Their children were Gloria, (married Harold Dollen), Durward (died at age of 10) and Donald (died at birth).
My father, Charles Julius Green was born January 17, 1879 on the Green Hill Farm in Oak Township, Mills County, Iowa. He was first married to Mary Angeline Phifer. They were the parents of Viola and Elda Green. Mary (known by many as "Dode") passed away after suffering severe injuries in an automobile accident.
Charles married my mother, Rachel Alice Funk, October 15, 1925 in Atlantic, Iowa. I (Mariann Alice) was their only child. (Viola was 15 and Elda was 8 when my parents were married.)
Viola married William Miller on January 21, 1931, and Elda married George W. Woodward on November 26, 1941.
My parents and Elda and I moved from the farm on the north edge of Shelby to a rental one near Corley. During the eight years we lived there, my parents bought their first tractor, a Fordson, and then replaced it with a McCormick-Deering 1020. My parents bought a farm in Guthrie County, near Menlo, and we moved there in 1939.
My mother always had a large vegetable garden, and canned a lot of vegetables, as well as cherries and peaches. She always had chickens and sold eggs. I remember her doing a lot of embroidering on dish towels, crocheting doilies and mittens, and she was a good seamstress – she made almost all of my clothes.
My mother had surgery in a Des Moines hospital and passed away January 3, 1942. My father passed away at his home in Shelby on March 12, 1956. My parents are both buried in Plumer Settlement Cemetery in Oak Township of Mills County, south of Council Bluffs, Iowa.
Seeing the movie "Roots" sparked a real interest for me to learn more about my own roots. I have very little memory of any of my grandparents. My maternal grandfather, Milton George (or some records show "George Milton") Funk was born October 9, 1855 on a farm near Richfield, Washington County, Wisconsin. At the age of 9, he moved with his parents to a farm in Iowa County, near Millersburg, Iowa.
October 17, 1878, Milton married Sarah Angeline Tinkle at Ladora, Iowa. In 1882, Milton, Sarah and little Fred moved to a farm in Harrison County, Washington Township, north and east of Persia, Iowa.
I have been told that in the 1890's, my grandfather drove a horse-drawn grocery wagon for Cam Duepree, going around the countryside peddling groceries and dry goods. Butter and eggs were often traded for the merchandise that was offered.
In 1928, Milton and Sarah moved into Persia, Iowa. Sarah died October 20, 1936 and Milton died on June 12, 1937. Both of my grandparents are buried in Valley View Cemetery in Union Township, Harrison County, west of Persia, Iowa.
My great-grandfather, John George Funk, was born December 29, 1829 at Nierstein on the Rhine, Hesse Darmstadt, Germany. He migrated to America in 1853, and on October 24 of that same year, he married Margaretha Autlicht Endlich, who was born October 24, 1824 at Hefsed, Darmstadt, Germany. She had been married to Gabriel Endlich, and they had two daughters, Catherine and Mary, before he passed away on May 1, 1880. Catherine ("Kate") Endlich was born October 17, 1847; married Nelson Wanamaker in 1867; and died February 14, 1933. Mary Endlich was born May 6, 1851 and died November 24, 1932. Her first marriage was to Jacob Emig on February 14, 1873. Her second marriage was to Chris Young on January 29, 1917.
John and Margaretha Funk's children were Milton (who married Sarah Angeline Tinkle); Friederika Mary Rachel (born July 15, 1857 and married Henry Rohlfs and later married L.W. Peasley; she died in 1944); Ellena Helen (born about 1860; she married Thomas Sparrow, and died in 1878); Julia Agnes (born in 1861 in Richfield, WI; she married William Wills, and died in 1916); and Francis M. Amelia (born about 1864; she married William Henry Davis).
It was in 1864 that the Funk family moved from Wisconsin to Iowa County, Iowa. Eighteen years later, they moved to Washington Township of Harrison County, Iowa near Persia. They were living in Persia when John passed away on March 15, 1902; Margaretha passed away on March 30, 1908. Both of my great-grandparents are buried in the Washington Township Cemetery east and south of Persia, also known as the Lytle Cemetery.
My real research challenge started when I came to Grandmother Funk. All the information I had was on her baptismal certificate: "Sarah Angeline, daughter of Chr. Tinkle and his wife S. Tinkle, was born on the 31st day of May, 1859 near Millersburg, Iowa and was baptized on the 13th day of May 1879." [NOTE: Christopher and Susannah Tinkle were my maternal great-grandparents.]
My husband, Bob, and I went to Iowa County, to Millersburg, population 184. We talked to a few people in the stores, and asked if they knew of anyone connected to the Tinkle family. I was given the name of Alice Holderness, but she was not at home. We went to the cemetery and found the graves of Christopher Tinkle, born February 20, 1826, in Darke County, Ohio, died February 14, 1895 (68 years old) and his wife, Susanna Tinkle, born April 2, 1836 in Fayette County, Ohio, died March 20, 1903 in Aurora, Missouri (67 years old).
Christopher came to Iowa with his parents in the early 1840's. He, like his father, Nicholas Tinkle, was a farmer.
I wrote to Alice Tinkle Holderness and learned that her grandfather, Jacob, and my great-grandfather, Christopher, were brothers. Alice and many of her relatives were a tremendous help by sharing their information.
**
At a later date, my cousins, Vera Funk Rose and Gloria McGavern Dollen, accompanied us to Des Moines, Iowa, where we went to the old Iowa Historical Building and to the Iowa Department of History and Archives Library. It was there in Volume I in The History of Iowa County, Iowa by Benjamin Gue, 1903, that we began finding trails. This is copied from page 36:
"The settlements in the south part of the county on the English River were not made as early as those on Old Man's Creek and along the Iowa River. Prior to 1848, there were, however, quite a large number of people located along the valley of the English River and English precinct had been established. At the election held at the house of George Miller in April of that year, there were exactly eleven voters. They were: William K. Miller; Thomas Dedmore; Rueben Miller, Burris Cole; Aaron Cheney; George Miller; Nicholas Tinkle; David Tinkle; Christopher Tinkle; Lewis Green and John Dennis.
George Miller was probably the first who came to the locality as well as being the most important personage in the community after it was formed. It is said that Rueben and William K. Miller were his brothers. From this settlement, the town of Millersburg sprang and was named." [The histories of Iowa County from 1881 and 1915 say that Reuben laid out the town in the spring of 1852 and Millersburg was named for him.]
Some more of the facts we found were:
The first marriage in the township was Christopher Tinkle to Susannah Coover on August 24, 1851.
The first white baby born in English Township was John Tinkle, son of Christopher and Susannah, born in 1855.
Christopher Tinkle served in the Civil War. He was a private in Co. I of the 28th Iowa Regiment I Infantry from August 15, 1862-July 31, 1865. From the military records, we learned that Christopher was of dark complexion, had hazel eyes, was 5'9″ tall and had black hair. He had chronic rheumatism. He was age 36 when he enlisted in the service. This item was from an article on the Town of Millersburg, telling its history. "James Cross Post No. 292 Grand Army of the Republic was organized at Millersburg on February 22, 1884." Christopher was listed as a charter member. It states also that other people were taken in after the post was formed. David Tinkle, Christopher's brother, was one of them.
Christopher and Susannah's children were: John (single); Catherine (married John Hilficker); Sarah (married Milton Funk); Martha Ellen (married Robert Tudehope); Thomas (married Elizabeth Weller); Mary Ann (married Amasa Cheney); Clara (married Emory Cheney) and Hattie (married Perry Marshall).
It was rewarding to find so much information.
MM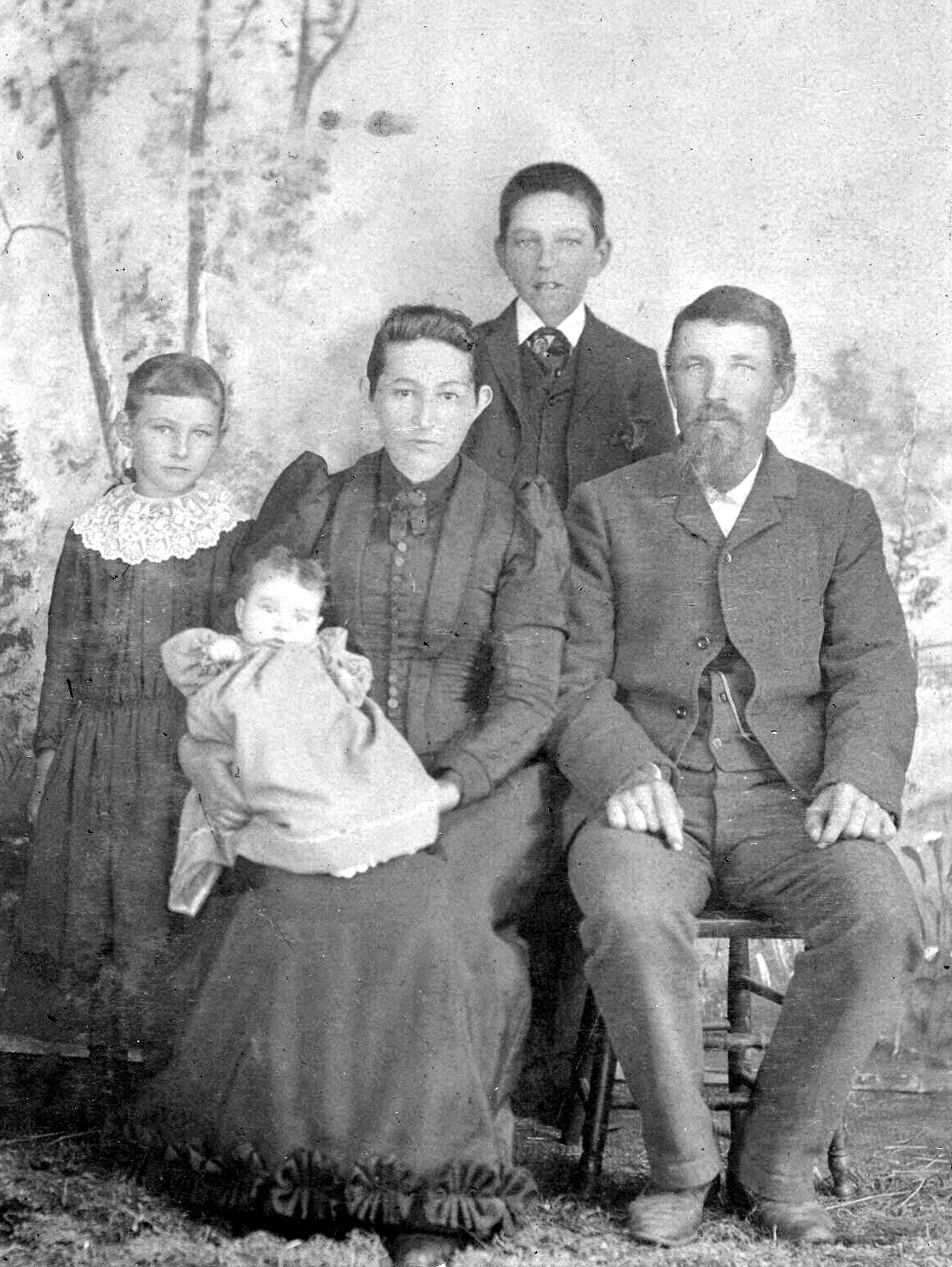 Front: Baby Rachel Alice, Sarah Angeline & Milton George Funk. Back: Susan & Fred Funk, 1893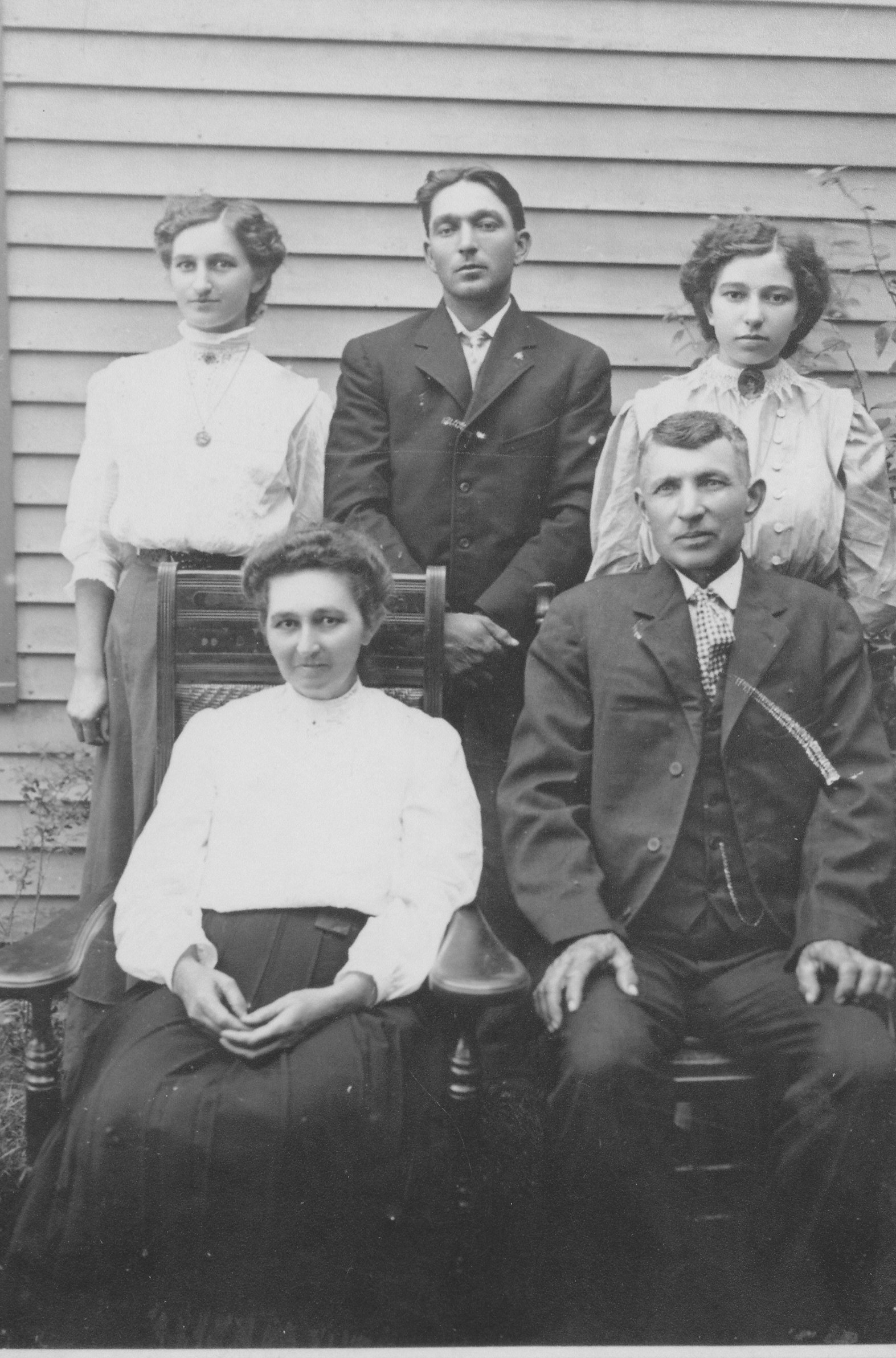 Front: Sarah Angeline & Milton George Funk. Back: Susan, Fred & Rachel Alice Funk, 1909