IN LOVING MEMORY OF WGS CHARTER MEMBER: ROBERT MARTENS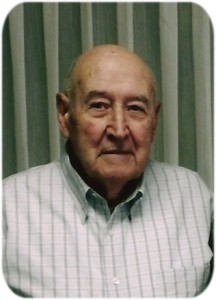 Robert William Martens, the son of Claus and Bertha (Dohrmann) Martens, was born on October 18, 1928, in rural Shelby, Iowa. He attended Shelby Consolidated Schools, and graduated in 1946. On October 19, 1947, Bob married Mariann Alice Green at the United Lutheran Church in Shelby. The couple farmed near Shelby, and later, for a year, near Walnut, Iowa. Bob also drove a school bus for the Walnut schools for 18 years.
Bob was a member of Peace United Church of Christ in Walnut. He was a former 4-H leader, the past president of the Walnut Community Club, a charter member of the Walnut Genealogy Club, and a longtime Peace Haven Association Board member. Bob enjoyed mowing lawns for himself and others. He collected geodes, and had an interest in vintage tractors.
Robert "Bob" W. Martens died on Wednesday, August 12, 2015, at Creighton University Medical Center, Omaha, Nebraska, at the age of 86 years, 9 months, and 25 days.
Bob was preceded in death by his parents; one brother, Marvin Martens; and four sisters, Agnes Altstadt, Martha Lissi, Helen Goshorn, and Loretta Jessen. He is survived by his wife of 67 years, Mariann Martens of Walnut, Iowa; one son, Chuck Martens of Omaha, Nebraska; two daughters, Becky (James) Rasmussen of Bellevue, Nebraska, and Cheryl (Eugene) Butcher of Avoca, Iowa; six grandchildren, Gena (Scott) DeRosier, Julie (Joseph) Blake, Rachael (Ryan) Johnson, Eugene (Sandy) Butcher, Jr., Shari (Dale) Kay, and Christi (Ryan) Zimmerman; 17 great-grandchildren; two great-great-grandchildren; numerous nieces and nephews; and other relatives and friends.
The funeral service was held on Saturday, August 15, 2015, at Peace United Church of Christ in Walnut, Iowa, with Pastor Steve Lewis officiating. Sarah Kock served as the organist and Jeff Krueger was the soloist. Casket bearers were Bob's grandchildren, great-grandchildren, and great-great-grandchildren. Burial was in the Shelby Cemetery, Shelby, Iowa. Memorials may be made to Peace United Church of Christ or to the Walnut Genealogy Society. (www.burmeisterjohannsen.com)