IN LOVING MEMORY OF WGS CHARTER MEMBER:
ROBERT GOEKEN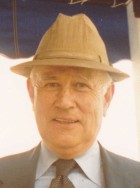 Robert L. Goeken, 95, of Atlantic, formerly of Marne, passed away Monday, December 5, 2016, at Atlantic Specialty Care.
Robert Lee Goeken was born February 13, 1921, to Jessie Polkingharn Goeken and Arthur Goeken at his parents' home in Cass County, near Marne. He graduated from Atlantic High School in 1938 and attended Iowa State University in Ames. He was a volunteer with the Civil Defense Air Patrol during World War II.
On June 23, 1946, he married Lucile Gladys Reimer in Walnut. The couple rented a home off Highway 83 west of Marne, before settling in Marne for most of their adult lives.
Bob and his brother, Charles, operated an airfield at their grandparent's farm east of Marne for many years. During this time Lucile had a restaurant there. In 1955, he established R.L. Goeken and Company, Inc., a real estate appraisal firm in Marne, and the Marne-Brighton Insurance Agency, for which he was a licensed independent insurance agent. Bob built a number of homes and office buildings in the area, including the Marne Post Office, and managed rental properties. For a time, he worked for Northern Natural Gas in Omaha, Neb., negotiating the purchase of land. He later established his own right-of-way partnership. In addition, Bob and Lucile owned and operated the Parkway Market in Marne for 41 years, until its closing in 2000.
Bob and Lucile enjoyed entertaining and travel, and together with Lucile's sister and brother-in-law, Viola and Gil Paulsen, were regular summer visitors at the New Inn in Okoboji, Iowa. They built an outdoor picnic shelter at their home and often hosted summer picnics for friends and relatives, serving salmon that Viola and Gil brought from their home state of Washington. Bob and Lucile traveled to Europe in 1974.
Bob was a 50-year member of Masonic Grove Lodge #492 A.F. and A.M., a member of the Marne Methodist Church, and active in the Democratic Party at the county and state levels. He chaired the Marne Centennial Historical Committee that published the town's history in connection with its 1975 centennial.
Bob is survived by nieces and nephews, Max Reimer, Bill Reimer, Alan Reimer, Kathy Gates, Connie Poulsen, Debbie Lucas, Chris Poulsen, Meta Trailer, Rosanne Bachman, Mark Reimer, Randy Reimer, Renee Reimer, Russell Reimer, James Goeken, Richard Goeken, William Goeken, Constance Randall, and Kathryn Vincent.
He is preceded in death by his parents; wife, Lucile; and brother, Charles Goeken.
A Masonic service by Grove Lodge #492 A.F. and A.M. was held at 10:45 a.m., Monday, December 12, 2016, at Roland Funeral Home in Atlantic. The funeral service was held immediately following with Pastor Jerry Neal of the Marne United Methodist Church officiating. Burial was in the Brighton Township Cemetery in Marne, Iowa.