IN LOVING MEMORY OF WGS CHARTER MEMBER: AUDREY CARROLL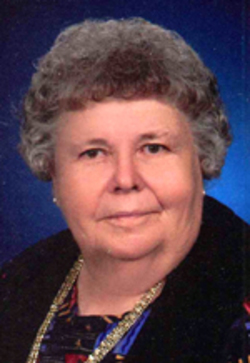 Audrey Maxine Carroll was born on July 23, 1926 in Grove Township in Shelby County, Iowa to Charles and Lillie (Hansen) Rosenow. She attended school in Walnut and graduated from high school in Harlan, Iowa. She graduated from Omaha University and taught school at Fairview Township and Dow City, Iowa for the next two years.
She met John Kenneth "Bud" Carroll and the two were united in marriage on December 29, 1947 in Hiawatha, Kansas. Four boys and four girls were born from this union: Charles, Roger, Faye, Lyla, Carla, Wade, Wray, and Gayle. In 1969, Roger was killed in the Vietnam War, and Audrey became a Gold Star Mother.
The family made their home on a farm outside of Avoca. Audrey helped farm, and raised her children with help from her family after the death of Bud in 1970. They had been involved in an automobile accident, which was fatal to her husband, but Audrey survived, although there were nine breaks in her pelvis. She was in the hospital for an extended period away from her children, the youngest being only 9 months old.
Audrey was a long-time member of Trinity Lutheran Church in Avoca, as well as many other organizations in surrounding areas including the Walnut American Legion Auxiliary, AmVets Auxiliary, Eastern Star in Marne, Past Matrons, Avoca Historical Society, Walnut Genealogy Society, rural school teachers, and 4-H Hall of Fame. She loved playing cards and Bingo and she especially enjoyed drinking coffee with friends.
Audrey died on Tuesday, March 4, 2014 at the University of Nebraska Medical Center in Omaha, Nebraska having attained the age of 87 years, 7 months, and 9 days. Along with her parents, she was preceded in death by her husband, Bud Carroll, son Roger Eugene Carroll, and many other relatives.
Carroll is survived by her children: Charles (Mary) Carroll of Joplin, Missouri, Faye (Dean) Androy of Missouri Valley, Iowa, Lyla (Mark) Schroder of Hancock, Iowa, Carla (Kent) Johnk of Hancock, Iowa, Wade (Terri) Carroll of Amarillo, Texas, Wray (Ann) Carroll of Avoca and Gayle Carroll of Avoca; sisters-in-law Mildred Petersen and Wilma Jean Klindt, both of Avoca, and Dorothy Ann Carroll of Harlan; brothers-in-law Everette (Sandra) Carroll of Avoca, Donald Langer of Avoca, Marland Mattox of Omaha, Nebraska and Michael Kaufman of Ralston, Nebraska; 14 grandchildren and 4 great-grandchildren; many other relatives and friends.
Services were held Saturday, March 8, 2014 at Trinity Lutheran Church in Avoca with burial in the Graceland Cemetery at Avoca.
KH