IN LOVING MEMORY OF WGS CHARTER MEMBER
MABEL BUBOLTZ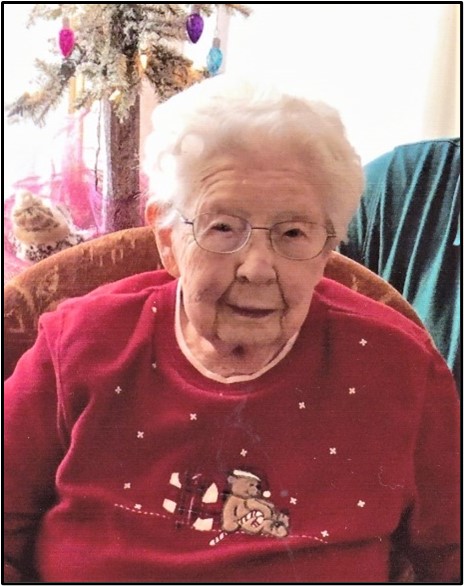 Mabel Buboltz, 97, of Walnut, Iowa, left softly, gently, quietly and peacefully on Sunday, March 15, 2020, at the Atlantic Specialty Care in Atlantic, Iowa.
Mabel Emma Buboltz was born July 14, 1922, to George I. and Dora V. Peterson Drake at the Drake Layton Township Farm near Walnut, Iowa. She was a member of the Walnut Presbyterian Church. She attended Layton Center #5, known as the Rossmann School, all eight years and was a 1939 graduate of Walnut High School. She joined three classmates and attended Peru State College.
World War II changed many people's plans, and she later attended the University of Nebraska at Omaha. She taught elementary grades at East Peru, Elliott and Layton #3 country school also known as the McDermott Highland School for seven years until the war ended. She was a Junior and Senior Youth Leader and Sunday school teacher for preschool at the Presbyterian Church in the 1940's.
On October 8, 1950, she was united in marriage to John Raymond (Ray) Buboltz of Massena at the Walnut Presbyterian Church. While at Massena she was a Cub Scout Leader and Jr. and Sr. Methodist Youth Fellowship Leader. She was a member of the Methodist Ladies Circle, Rose Garden Club, and the American Legion Auxiliary #693.
Ray and Mabel moved from their farm at Massena to Walnut in 1981. She was a member of the Walnut Creek Historical Society and was a charter member of the Walnut Genealogy Society. She enjoyed her many Cessna plane trips with Ray, nature, sunrises and sunsets, wild birds, animal books, her garden flowers and friends. She had no love of thistles and button weeds. "We are only Caretakers of this land, not the owners, so leave it better than you found it".
She is survived by her son Robert Drake Buboltz of Walnut, nephews and nieces and other relatives and friends.
She is preceded in death by her parents, her husband Ray, her sister Esther Caddock Loewenstein, brothers-in-law, Earl Caddock and Bruce Loewenstein of Walnut and Ray's sister and husband Virginia (Buboltz) Kladstrup and Norman Kladstrup of Des Moines.
A graveside memorial service will be held at 2:00 p.m., Sunday, June 14, 2020, at Layton Township Cemetery in Walnut, Iowa.
(www.rolandfuneralservice.com)