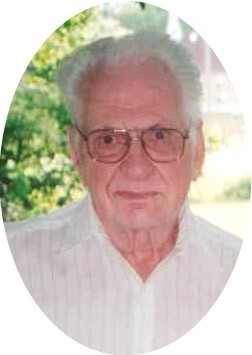 Charter Member John Raymond Buboltz
1921-2009
John Raymond Buboltz, son of John G. and Eleanor Louisa Dolch Buboltz, died at his home in Walnut, Iowa on March 28, 2009. He was born October 16, 1921 in rural Victoria Township, Cass County, Massena, Iowa.
Ray, as known to family and friends, attended country school and graduated from Massena High School in 1939. He moved to San Diego, California where he was employed as a sheet metal worker at Consolidated Aircraft in the assembly of PBY flying boats. He enlisted in the Navy in 1942 where he served three and a half years in World War II being discharged in 1945. He received his radio and Morse code training at the University of Wisconsin at Madison. He was stationed at Miami and Boca Caico, Florida. He served as radioman during the Asiatic Pacific Campaign and Philippine Liberation. Upon his honorable discharge he returned to Massena and began farming.
Ray married Mabel Drake of Walnut, Iowa on October 8, 1950 at the Walnut Presbyterian Church. Ray farmed until 1981 when he retired to Walnut, Iowa. He was a long time member of the Massena Methodist Church, Massena American Legion #693, and a charter member of the Walnut Genealogy Society. He was a private pilot owning his own Cessna that awarded him great pleasure attending flight breakfasts in a two state area and visiting relatives in the Midwest states.
Surviving Ray are his wife, Mabel and son, Robert of Walnut, his sister, Virginia Kladstrup of West Des Moines, a sister-in-law, Esther Loewenstein of Walnut, cousins, nephews, nieces and friends.
He is preceded in death by his parents, John and Eleanor Louisa Dolch Buboltz, brothers-in-law, Earl C. Caddock Jr. and Bruce Loewenstein of Walnut and Norman Kladstrup of West Des Moines.
An open visitation (with signing of a register book and viewing) was held daily through Friday, April 3 at Roland Funeral Home in Atlantic, Iowa. Memorial Services will take place in June (to be announced later) at Roland Funeral Home in Atlantic. The Committal Service will be at Layton Township Cemetery in Walnut, Iowa.
Roland Funeral Service is caring for John's family and the arrangements. Condolences may be left at www.rolandfuneralservice.com.
(Courtesy of The Walnut Bureau)