MY FAMILY IN WALNUT
BY JIM REDMAN
Rick Blum's article regarding the "Early Businesses" of Walnut got me thinking about my own ancestors' time spent working in Walnut. My grandmother, Leona (Petersen) Redman, was born in Walnut on October 17, 1898. Her mother, Christina Karstens, was born on a farm north of Walnut on October 15, 1874, the year Christina's parents, Paul and Margaretha (Thomsen) Karstens, settled there and commenced their farming operation. [The Karstens provide Karen Hansen and me with some common ancestry.] Leona's father, Peter W. Petersen was born in Iowa and came to Walnut sometime prior to his 1892-3 marriage to Christina. According to census records and the birth records of Peter and Christina's children, Peter seemed to try his hand at several things to make a living, including farming. Two mentions of Peter were found in a book in the Walnut library entitled "Walnut Memoirs" by Roma Lehnhardt Arndt:
Page 30 – "In 1894 many prominent men of Walnut were purchasing new Rambler, Imperial and Pacemaker bicycles. Among them were Chet Boiler, Pete Petersen, George Griffith, Herb Mosher, Ernest Kincaid, Charlie Spangler, and Frank LeFeber. They arranged for a trip overland on their bikes to Council Bluffs and Omaha."
Page 142 – "In 1900 the Walnut Cooperative Creamery was incorporated and elected the following officers: C. N. Simonsen, president; W. F. Bauer, vice president; Frank Bauer, secretary; Marx Reimer, treasurer; and the following directors: C. N. Simonsen, H. C. Mueller, A. Christensen, F. M. Leslie, and O. B. Tilton. Peter Peterson was employed as butter-maker."
Peter's 1944 obituary also includes that "for a number of years, Mr. Petersen was employed by the Walnut Cemetery Association as sexton of the local cemetery." One of Peter and Christina's children (and brother of my Grandmother Leona, was Hugo Petersen, proprietor of Pete's Barbershop from 1914-1960 according to Rick's previously mentioned article. Leona married William Byron ("Bud" or "Doc") Redman in 1923 upon his graduation from Iowa State College (now ISU) in Veterinary Medicine. Bud's father, I. D. Redman was one of the first registered pharmacists in Iowa, having graduated from the University of Iowa in 1896. I. D and family moved around to several of the towns in the area, including Hancock, Treynor, Pacific Junction, Malvern, Avoca, Dow City and Minden; however, according to I. D.'s obituary, from about 1917 to 1935, he owned a drug store in Walnut that later became the Variety store, which brings back memories of obtaining a nickel from the elders and making my way downtown with sister and cousins to obtain "penny" candies at that store in the 1960s. Of course, that building is now one of the antique stores on main street, and a few years ago, the current proprietor found a stash of old medicine bottles in the basement, some of which are now for sale in the store. My father (William Byron Redman, Jr., and like his father, a Doctor of Veterinary Medicine) provided the following interesting insight into I. D.'s drug store operations based on my father's discussion with long-time Walnut bar owner, Louis Pedersen (also mentioned in Rick's article):
"Louie Pedersen told me that I. D. was a bootlegger during prohibition.  He said I. D. had a 'select clientele.'  They got the booze in five-gallon drums, and they were making it in Templeton.  They called it Templeton Rye, and that's what the city of Chicago drank during prohibition.  Some folks from here (like I. D.) would go to Templeton and get a load and bring it back here, but most of it went to Chicago."
Templeton Rye is now being produced (legally) and if you look up Templeton Rye on 'Wikipedia,' you will be informed that during prohibition, this particular brand "was said to be the Chicago mobster Al Capone's drink of choice." As for I. D., shortly after his death in April 1946, the following newspaper article was printed in June 1946:
Mrs. I. D. Redman and family recently received a certificate of registration issued posthumously to the late I. D. Redman certifying that Mr. Redman had been a registered pharmacist in good standing in the state of Iowa for a period of 50 years. This is an honor which probably has not been paralleled in the history of the state. The original registration was issued January 7, 1896. The Golden Anniversary registration certificate contains the phrase, "In whose honor the Iowa Pharmacists examiners have caused this certificate to be issued." The certificate is signed by Governor Robert Blue and bears the seal of Iowa.
While Leona's husband, Bud, started his veterinarian practice elsewhere in Iowa (e.g., my father was born in Boxholm), according to his 1964 obituary, he ended the last 20 years of his practice in Walnut. He had an office apparently in the building that also housed Ona's Pool Hall based on the shared signage from the following picture: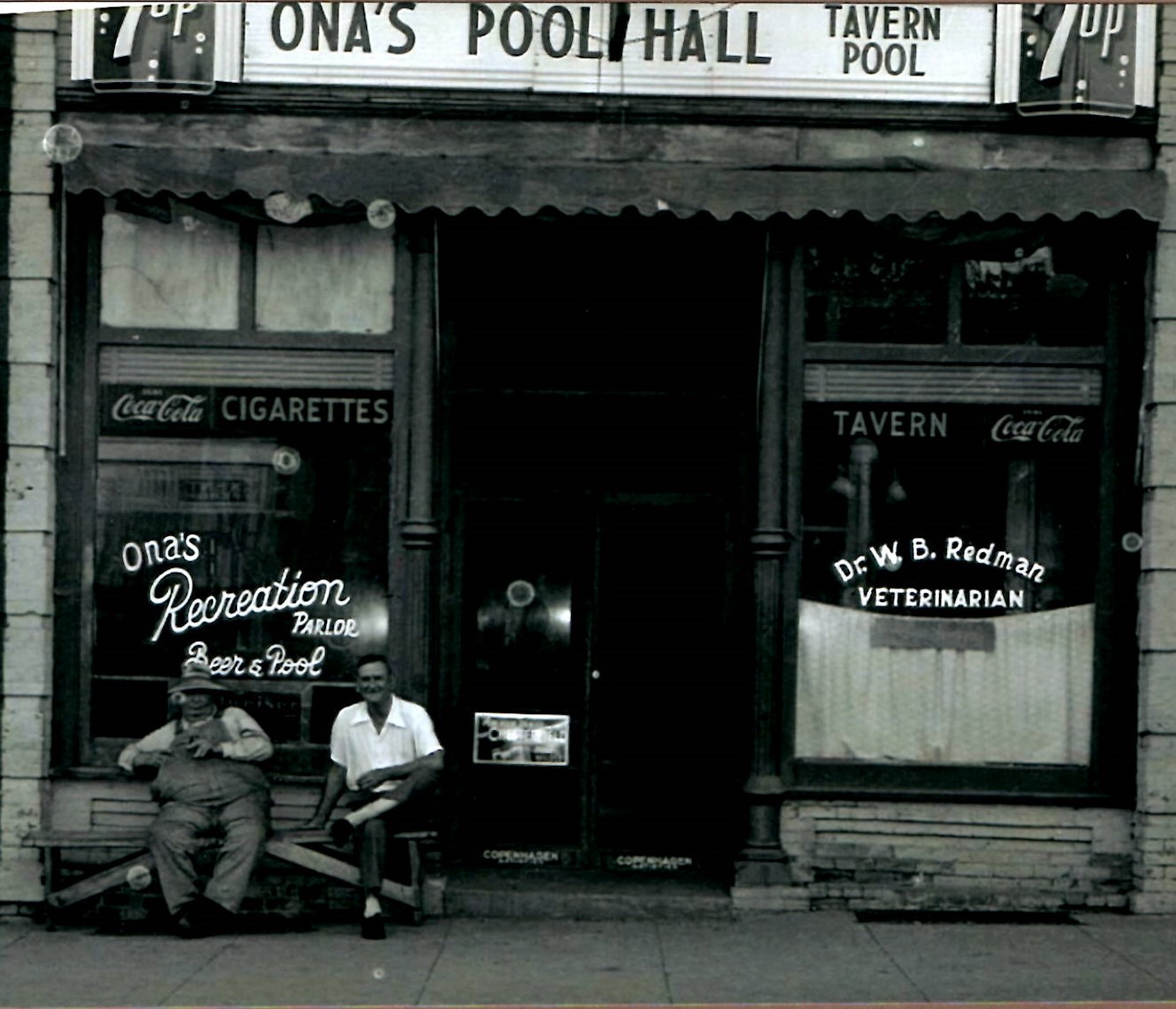 Bud and Leona lived in Walnut when my father and his siblings were in high school (1940s). Dad and his brother Jim were pretty good on the baseball field. Dad pitched and Jim played short stop. Jim played at the University of Iowa, but blew out his knee and could not advance any further. Dad was drafted into the navy upon graduation from high school in 1945, and, fortunately, at the end of WWII. After serving, he enrolled at Iowa State, eventually becoming a veterinarian. In a letter to me dated August 6, 1985, Dad provided the following regarding the Walnut high school baseball exploits of the mid-1940s:
"Bob Allen is here from California. I saw him this morning. He was one year behind me in high school & caught me my last year. He said we went to Avoca 40 yrs. ago in May & I pitched a no hitter in the sectional & we went to Harlan the next day & played 'em in the first round of district. He said they beat us either 4-3 or 5-4. I do remember my arm was sore & it was cool & damp. Anyway, I pitched 3 yrs. & that's the only one I lost."
Bud retired from his active veterinarian practice in the early 1960s and after his death in 1964, Leona continued to live at their house at 604 Atlantic Street until her death in 1996. I made many visits to that residence while growing up in Elk Horn in the 1970s and afterward. One more link in this family chain is my cousin, Rene Redman, an elementary school teacher in Walnut for several years and still a homeowner of the residence next to Leona's old place on Atlantic Street. Also, my nephew, Jesse Lindeman from Atlantic married a local rural Walnut girl, Sarah Sievers, daughter of Wayne. Given all these connections, the family roots run pretty deep in Walnut and many of those folks still "reside" a mile east of town, so although I now live in Colorado, I do continue to visit Walnut when I can.
Below, with my cousins on the "OFP" – Old Front Porch – of Leona's house (I am at far right in the blue shirt). The subsequent owners were kind enough to let us have another memory!