IN LOVING MEMORY OF WGS CHARTER MEMBER IOMA HUBBARD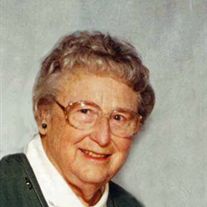 Ioma Catherine Hubbard was born on May 31, 1924, on the family farm outside Walnut, Iowa, the daughter of Henry and Christine (Zimmerman) Krueger. She attended school at Mt. Vernon country school until the seventh grade at which time the family moved to a farm northeast of Walnut. Ioma then attended school in Walnut and graduated from Walnut High School in 1941. While in school, Ioma won awards for her penmanship and she played girls basketball. She furthered her education at Commercial Extension Secretarial School in Omaha, Nebraska, where she learned secretarial skills.
Prior to marriage, Ioma worked at the Pottawattamie Mutual Insurance Agency as a secretary. It was here that she met Wilber Hubbard. Wilber's father was an agent for the agency and Wilber worked for him. Wilber describes the meeting as "uneventful." After Wilber left for the Army in 1942, Ioma wrote to Wilber and the relationship blossomed. After three years of Wilber chasing Ioma, she finally caught up to him and they were married on September 18, 1949 at Peace United Church of Christ in Walnut.
Living on the farm with her family, Ioma was the typical homemaker. She made all their clothes, had a large garden, raising vegetables and flowers, canned and froze produce, and supported the farmstead in every way. Ioma enjoyed quilting and needlework, ceramics, oil painting and most recently, coloring.
Ioma was a lifelong member of Peace United Church of Christ; the Order of the Eastern Star in Quick, Iowa; served as a member of the Grand Family and was the Grand Representative for the Grand Chapter of Eastern Iowa Star to Nova Scotia and Prince Edward Island; served on the board of trustees at Peace Haven Retirement Community in Walnut; was active with the Pottawattamie County Home Extension Service; and was a member of the Walnut Genealogy and Historical Society. She also enjoyed square dancing and playing pitch and pinochle. Wilber and Ioma donated more than 1,000 hours as volunteers at Jennie Edmondson Hospital in Council Bluffs and she taught Sunday school and Vacation Bible School classes for several years at Peace Church.
Ioma died on Thursday, May 25, 2017, at Northcrest Living Center in Council Bluffs, having attained the age of ninety-two years, eleven months and twenty-five days. She was preceded in death by her sons, Clark and Mark Hubbard.
Ioma is survived by her husband of sixty-seven years, Wilber of Council Bluffs; sons Neal Hubbard and his wife Charlotte of Lilydale, MN; and Alan Hubbard and his wife Lisa of Cedar Falls, IA; daughter-in-law Paula Hubbard of South Bend, IN; grandchildren Shawna Hubbard of Indianapolis, IN; Kirk Hubbard and his wife Kate of Golden, CO; and Anna Hubbard of Cedar Falls; other family members and many friends.
Memorials in remembrance of Ioma can be made to Peace Haven Retirement Home or Peace United Church of Christ.
(http://www.pauleyjones.com)