IN LOVING MEMORY OF WGS MEMBER DONALD FISCHER, 1921-2022
BY KATHY SORRELS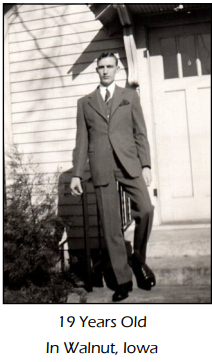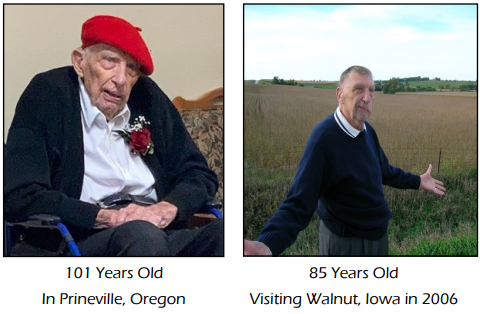 Donald Leneigh Fischer was born in Walnut, Iowa on February 19, 1921 to August and Ella (Krohn) Fischer. He passed away in Prineville, Oregon on February 27, 2022, a week after celebrating his 101st birthday. He spent his childhood roaming the streets of Walnut with his friends and, basically, had a childhood every child dreams about. The stories he would tell about Walnut were priceless and full of history of this area.
In 1942, Donald joined the Navy and served his country on the USS Farragut for nearly four years. He was in all the major island battles, preparing the way for the troops. He survived the Cobra Typhoon storm where two sister ships were sunk and 900 men lost. Once again, stories galore of WWII.
After the war, Don married a local Walnut girl, Sharlene Osler (the daughter of Carl and Ruth Osler). Sharlene like Don, served in the war with the W.A.V.E.S for four years. They married on April 26, 1946 and were married for 56 years. They settled in Southern California. Donald and Sharlene had two children, Kathy and Scott. Donald had various jobs and finally settled in at UCLA in the horticulture department. In 1966, he was transferred to the University of California at Davis where he was the Superintendent of the Horticulture Department until he retired.
Donald was a man of the Bible. He loved Jesus and served him throughout his life. He taught Adult Sunday School for many years and served as a deacon. Scott and I find great comfort in knowing that he is with the Lord and our mother. We are thankful to God for the love and care of two such wonderful parents.
Don is survived by his daughter, Kathy (Fischer) Sorrels, and his son, Scott Fischer. He is survived by his son-in-law, Keith Sorrels and his daughter-in-law, Debbie Fischer. Donald had 5 grandchildren, Matt and Adam Fischer, Kelley (Sorrels) Gecik, Kevin and Kurt Sorrels. He also had 5 great grandchildren, Emily and Sophie Fischer, Brixton Gecik, Aiden and Sean Sorrels.
Donald lived a full and exciting life. He knew he was blessed and he was very grateful to God for allowing him such an abundant life. Donald is missed very much.
Donald was laid to rest in the Walnut Cemetery next to his parents and his wife. Home at last.
Kathy Sorrels
[More photos and comments by Don on his "Life Wall" at: htts://semperkeith.com/df/df.html ]
Editor's Note:  Donald Fischer wrote many books, which he shared with the Walnut Genealogy Society, and which are available to read at the Walnut Genealogy Society.  The titles are During My Lifetime, Infamy and Back, The Farragut, and What Have You Done, Donald.
Don was the biggest fan of Walnut. His love for our town was an inspiration to so many of our residents.
Karen Hansen