GUMP, JOSEPH D. AND LUCY P. FAMILY
BY JIM AND KAREN HANSEN
Why is the Joseph and Lucy Gump family not a well-known Walnut family of the late 1800's and early 1900's? All began with so much promise. The young married couple moved from Avoca, where Joseph had a harness shop and where he and his brother had voted for the incorporation of Avoca in 1874, to Walnut. Joseph set up shop on the northeast corner of the downtown block of Central Street in about 1878.
The Gump's first child was born in 1879, a second in 1880 and a third in 1881. Birth announcement: Thanksgiving Day a 10 1/2 pound boy arrived at Joe Gump's, Thursday. Better than turkey, unless you have both. (The Walnut News, December 2, 1881, p. 3) Tragedy struck and three family members were gone by the end of 1882. By 1889, one member remained, son Roy.
When our summer intern, Erika Lees, was working on indexing the Layton Township Cemetery, she found confusion regarding the Gump tombstones. Two daughters of J. D. and L. P. Gump died at an early age. Three hard-to-read markers were found. One small stone had to be raised and both small stones had to be cleaned. A third and much larger stone was mostly unreadable with a metal repair band covering the name.
We were curious and did extensive searching for information on the Gump family. Winnie B. Gump died on August 21, 1879, aged 8 months and 16 days. We found a short obituary: "It is with deep regret that we are called to announce the death of the infant child of Mr. and Mrs. Joe Gump." (The Walnut News, August 21, 1879, p. 3) A Card of Thanks was printed: "We desire to return our sincere and heartfelt thanks to our many friends who so kindly watched with us and otherwise assisted us during our sad affliction in the death of our little child." (The Walnut News, August 28, 1879, p. 3)
By photographing stones and enlarging the photos on our computer, we decided that the name on the second stone was not Mariam as found in the Botna Valley Genealogical Society index, but is actually Vinnie M. She died on May 5, 1882, aged 2 years and 5 months. We found a short obituary: "Mr. and Mrs. Joe Gump's eldest child died Friday morning and was buried that afternoon. Rev. Lampman, conducted the funeral services." (The Walnut News, May 5, 1882, p. 3) In the same paper was the following: "We gratefully return thanks to those who rendered us assistance in our late bereavement. MR. and MRS. JOE. GUMP."
In the 1880 Census for Walnut, we found the Gump family. Joseph, 31, was born in Ohio and was a harness maker. His wife, Lou, 22, was born in Wisconsin. Their daughter May was born in February of 1880 in Iowa. Her name is Vinnie M. on her tombstone. Also listed with the family were Lena Nelson, 11, who was probably helping with the baby, and William Worts, 18 and Benjamim Lyman, 21, both harness makers.
We were then able to find Joseph D. Gump, 20, born in Ohio, listed with his parents in East Des Moines, Iowa in the 1870 Census. His father, William, 52, born in Ohio, was farming and his mother, Rachel, 50, was born in Alabama. Arleta E. Gump, female, 7, born in Iowa was also in the family.
Using familysearch.org, we located the marriage record of J. D. Gump and Lucy Phillips. They were married at Avoca, Iowa on October 17, 1876.
Joseph had an established harness making business in Avoca at the time of their marriage. The October 24, 1878 issue of the Walnut News printed an ad for J. C. Barnard who was operating a harness making business from J. D. Gump's old stand in Avoca. Other ads in the newspaper were for the L.P. Gump harness business in Walnut. Most of the ads used Lucy's initials and read as follows: "Don't Read This. Because L. P. Gump is selling Harness so Cheap. Harness made to order on short notice. Repairing A Specialty. If you go and see Gump, He Will Make You Happy. He keeps everything that a first class shop keeps. Call on L. P. Gump, the boss harness maker, Walnut, Iowa."
There were two news items in The Walnut News, August 28, 1879 that referred to the Gump shop. "L.P. Gump has leased the lot just north of Casey's meat market and is moving the harness shop building onto the lot. They will enlarge the building in order to accommodate their increasing business." (L. P. Gump purchased the north 18 feet of lot 18 in block 15 a few years later.) "Moershell Bros. are having the stone and other material hauled for the foundation of their new building on the lot now occupied by Gump's harness shop. They will commence building right away. We are glad to see these evidences of success and prosperity for it shows that Walnut is steadily advancing, and it is bound to take the lead in enterprise."
From our perspective, all appeared to have been going well at the end of 1881. Gump had purchased the right to use the adjustable pad-loop for Pottawattamie county from E. A. Bigelow. "All those wishing those put on their harness will have to go to Gump." (The Walnut News, Friday, December 23, 1881, p. 3) "Gump sold out his harness shop and lot to Will Motter, last week, for $720. It seems that Motter understood that Gump would not go into the business again for three years, but Gump didn't understand it that way, and has rented a part of the postoffice and will put in a new stock. Gump on Deck And shouting to those who want a new harness, or an old one repaired, to call at the post office and examine his bran new stock, just laid down in Walnut, Friday. Gump will give you low prices and number one goods." (The Walnut News, Friday, January 6, 1882, p. 3) "Gump has two men at work, now besides himself, so bring on your work; repairing and new work both specialties." (The Walnut News, Friday, January 20, 1882) It seemed that Joseph Gump was determined to be a harness maker.
"Gump sold his harness shop to Engleman & Motter last Saturday, making the second sale to these gentlemen in two months. They seem determined to keep him out of that business." "Motter sold his hotel lease to Gump, who, being out of the harness business, will endeavor to give the traveling public a good quality hash. There is no truth in the report that the first morning Gump went into the dining room and saw one of his guests without a fork and an empty plate he yelled to the waiter; 'Here, bring this galoot a new awl and some waxed ends,' when he meant to say hash." (The Walnut News, March 3, 1882, p. 3) The business change was not a good move. "S. A. Sleeper bought W. H. Motter's house, this week, paying the sum of $600." (The Walnut News, March 31, 1882, p. 3) "Joe Gump gave up possession of the Central House, Monday, and will look for a new field at Defiance. Mrs. J. Sankey took possession of the hotel." (The Walnut News, June 30, 1882, p. 3) Instead of going to Defiance, "Joe. Gump started for Persia, Thursday morning, with some store furniture. He intends going into the drug business at that place." "Joe. Gump has rented the Bracken house, north of the church. He got some men to take axes and fell the weeds in the yard, and a farmer north of town, who is going to build a line fence, wanted to buy them for rails. He said if the bark were pulled off two men could easily lift and lay them in a fence, after they seasoned a little." (The Walnut News, Friday, August 11, 1882, p. 3) "Joe. Gump and Frank Gardner will open their drug store in Persia next week. It is the only medicine warehouse in the town and we hope they will make money." (The Walnut News, Friday, August 18, 1882)
Then came more bad news; we found an obit for Lucy Gump who had died November 27, 1882 in Persia, Iowa and was buried in Walnut. The obit reads: "Mrs. Joe Gump, of Persia, died Monday morning of typhomalarial fever, after an illness of eight days duration. The body was brought here Tuesday morning, and funeral services held at the Presbyterian church. The deceased had always expressed a fear of being buried alive and requested that every precaution should be taken before internment. Consequently, Doctors Hanna, Darnell and Williams verified and made an examination of the corpse at the church." (The Walnut News, Dec. 1, 1882, p. 3) The unknown stone in the Gump plot at the Layton Township Cemetery is Lucy's. We had thought that the 3-linked chain symbol on the stone meant that it was a male member of IOOF (Independent Order of Odd Fellows) until we discovered that it is also used for the Rebekahs, the women's branch. By enlarging the photo on our computer, we can read "DIED NOV 28 1882 AGED 25 Yrs. 3 Mos. 7 Days."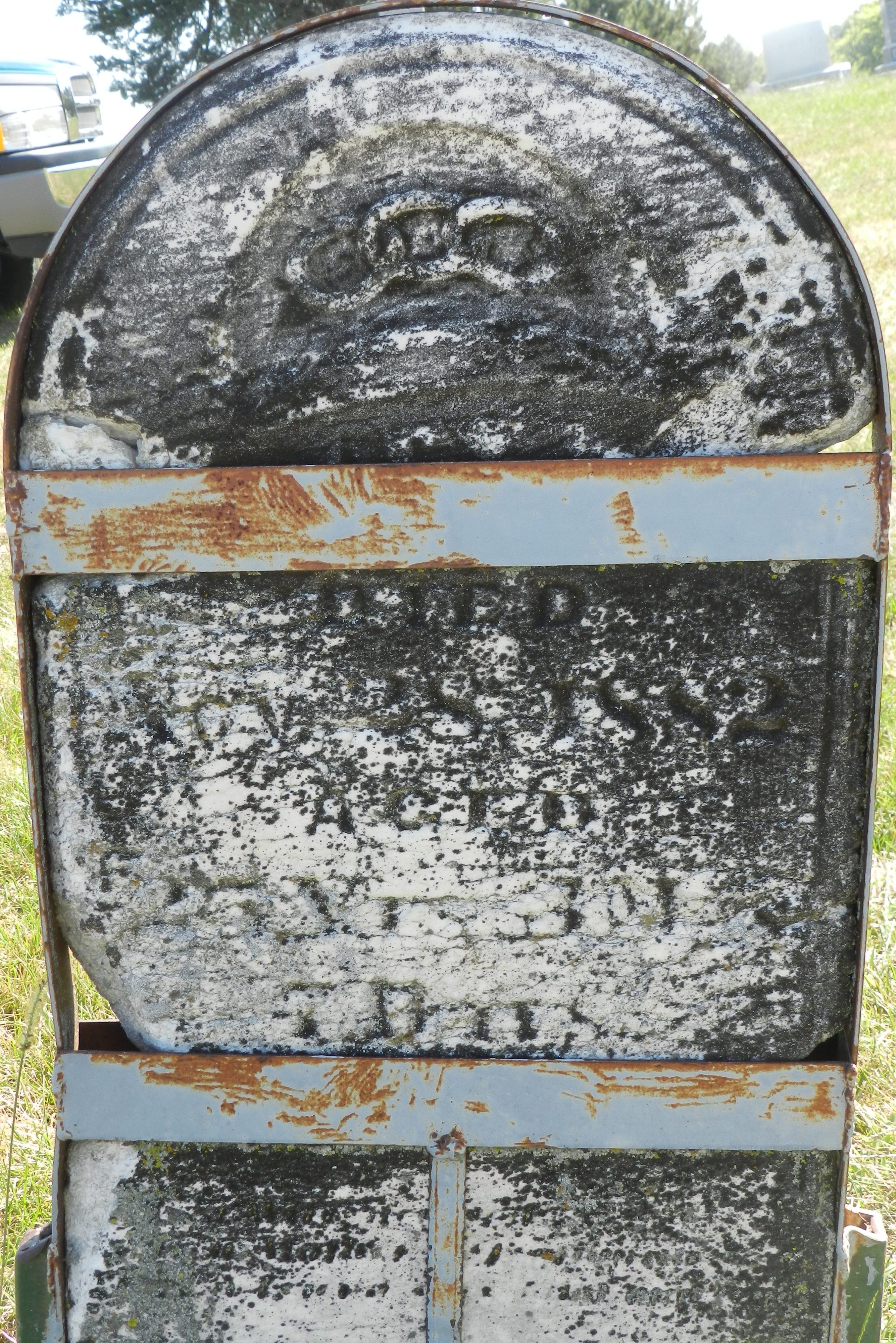 We then searched the 1885 Iowa Census for Harrison County, Iowa. Sure enough, Joseph Gump was listed with 3-year-old Roy Gump, living with Rachael Gump, Joseph's mother, and Morrill Gump, Joseph's brother, in Washington Township. Then we searched the 1900 Federal Census and found 18-year-old Roy Gump living with his uncle and aunt, Granville L., 43, and Jennie Sweny, 35, and their niece Bertha Blackburn, 18, in South Omaha, Nebraska. Where was Joseph? A search of the Omaha World-Herald obituary index listed an 1889 obit for Joseph. It said he died in South Omaha, Nebraska and was buried in Avoca, Iowa. No Gumps were listed in the Avoca cemetery index. The cemetery map shows M. W. Gump as a lot owner. The Botna Valley Genealogical Society index listed a burial permit for Joseph, which directed us to the book at the Avoca Library. There we found the following information: Joseph Gump, age 39, died July 31, 1889, cause of death Phthisic Pulmonalis (lung disease). He was buried in Graceland Cemetery, SE 1/4 of block 105, in an unmarked grave.
It seems strange that he was not buried with his wife in the Walnut Cemetery. Joseph's brother Morrill (or Morrell) was buried next to Joseph, also in an unmarked grave in 1905. According to the Omaha World-Herald, he died on August 11, 1905 at age 55 and was buried in Avoca, Iowa. We don't believe that either of his wives is buried with him. Morrell W. Gump married Mary Jane Foust on February 26, 1871 in Des Moines, Iowa and married Elizabeth A. Henning on February 15, 1887 in Neola, Iowa.
Roy Gump was 7 years old when his father Joseph passed away in 1889. After 1900 when he was listed with his aunt and uncle, we could not locate Roy Gump. Where was he? WGS member Barb Butcher found Roy Sweny in the California Death Index. It gave his father as Gump and his mother as Phillips so Roy was using the Sweny name instead of Gump.
In the 1920 Federal Census in Los Angeles, California, we found Roy, married to Nellie M. Mitchell. They had 2 children, Florence A. Sweny, 14, born in Nebraska and John L. Sweny, 5, born in Kansas. Alferd J. Mitchell, Roy's father-in-law, 66, born in England, was with the family. In the 1930 and 1940 Censuses, Roy, Nellie and John Leroy were living in Gardena, Los Angeles County, California. In his 1942 World War II Draft Registration Card, Roy was 59, born at Walnut, Iowa and living at 16411 St. Andrews Place in Gardena, California. Roy (Gump) Sweny passed away July 16, 1952 in Los Angeles, California, aged 70 years 7 months 22 days old. Thus, the Joseph Gump family name came to an end.
The tombstones of Roy and Nellie M. Sweny can be seen at findagrave.com. They are buried in Roosevelt Memorial Park in Gardena, California. Roy's birth year should be 1881, but is 1882 on the stone. Per the California Death Index, Nellie Maude Sweny was born on March 19, 1882 in Illinois. Her father's name was Mitchell and her mother's name was Polly. Nellie died on May 9, 1954 in Los Angeles.
John L. Sweny, the son of Roy and Nellie, born November 12, 1914, died in November, 1977. He was a private in the U. S. Army in World War II and is buried at Mountain Shadow Cemetery in Sonora, California, according to findagrave.
JH