IN LOVING MEMORY OF WGS MEMBER:
HELEN SUE WILLIAMS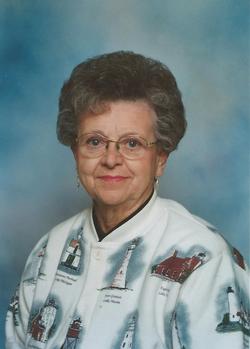 Helen Sue (Henry) Williams was born November 21, 1929 in a log cabin in Center Township, east of Oakland, Iowa to John C. and Velma Grace (Miller) Henry. After her graduation from Oakland High School in 1947, she taught country school for several years. She was united in marriage to her high school sweetheart, Roy E. Williams, on August 27, 1950. She was still residing in the home they moved into together in 1950 until the time of her death on March 28th, 2016 and took an active role in the farming operation. Helen had attained the age of 86 years, four months, and eight days.
Preceding her in death were her parents and her husband, Roy.
Helen leaves behind three daughters: Connie Lantz & husband Dan of Bulverde, Texas; Denise & husband Dwight (Pete) Hobson of Oakland, Iowa, and Emily Miller & husband Scott of Oskaloosa, Iowa. Also surviving are nine grandchildren; 10 great-grandchildren her brother Fred Henry and his wife Joyce; her brother-in-law Earl Williams and his wife Jackie; and her sister-in-law Chris Williams (Raymond); as well as her loyal friend and companion Roger.
Helen Sue was very proud of her Century Farm designation and was a longtime Farm Bureau member. She was active in the Oakland Congregational Church and enjoyed many adventures with the Friday Coffee Ladies. Helen Sue was a life time learner and was proud to share that love for learning with her daughters and grandchildren. Her interests included genealogy, travel, dancing and using her computer skills.
The funeral service for Helen was held at the Oakland United Methodist Church in Oakland, Iowa on April 1, 2016. Burial was in the Oak Hill Cemetery at Hancock, Iowa next to her husband, Roy. (www.riekenfuneralhome.com)
We will miss Helen.
KH